Eye Cream
An award winning eye cream packed with powerful antioxidants and peptide that reduces visibility of wrinkles, skin discoloration and puffiness.
Ordered before 23.30 on working days, delivered tomorrow
An award winning eye cream packed with powerful antioxidants and peptide that reduces visibility of wrinkles, skin discoloration and puffiness. Read more
Ordered before 23:30, delivered tomorrow.
Description
Mad Hippie Eye Cream
A powerful eye cream full of antioxidants and peptide!
The Award Winning (Cosmopolitan Latina Beauty Awards) Mad Hippie Eye Cream is a natural eye cream and is packed with powerful antioxidants and peptide. The eye cream reduces the visibility of wrinkles, skin discoloration and puffiness. This natural eye cream is the favorite natural beauty product from Lena Dunham. 

Characteristics:
- 100% natural
- Airless pump packaging BPA free and 100% recyclable
- Not tested on animals
- Vegan
- Content: 15ml

Ingredient highlights:
Eyeliss (triple peptide complex, reduces dark circles and increases skin firmness and elasticity)
Regu-age (peptide complex that reduces swelling and dark circles around the eyes)
Matrixyl 3000 (powerful anti-aging peptide that stimulates the natural production of collagen, elastin and hyaluronic acid)
Haloxyl (dual peptide, improves complexion and firmness of the skin)
Chamomile extract (soothes and calms the skin)
Pomegranate (powerful antioxidant with a high content of ellagic acid)
Vitamin C (very powerful antioxidant, stimulates the production of collagen, for a shiny skin)
Wheat protein (moisturizes and firms the skin)
Niacinamide (vitamin B3, inhibits damage caused by UV radiation, stimulates collagen production)
Argan oil (contains a high concentration of vitamin E, essential fatty acids and phytosterols)
Buckwheat (for an even complexion, reduces dark circles and bags)
White tea (strong antioxidant, neutralizes free radicals and prevents damage from UV radiation)
Ceramide (protects and repairs the skin)
Vitamin E (reduces fine lines and wrinkles and protects against free radicals)

What magazines say about the Mad Hippie Eye Cream

"Best Eye Cream" - Cosmopolitan Latina's Beauty Awards

"Packs a punch against dark circles" - Health Magazine
Ingredients (INCI):
Water, Caprylic / Capric Triglycerides, Cetyl Alcohol, Stearyl Alcohol, Syn- Eye (Peptide: Water-Panthenol-Sodium Hyaluronate Acid-Palmitoyl Tripeptide-5), Niacinamide, Glycerin, Glyceryl Stearate, Isopropyl Palmitate, Shea Butter (Butyrospermum Parkii), Vitamin E (Tocopherol), Vitamin C (Sodium Ascorbyl Phosphate), Squalane (vegan), Phenethyl Alcohol, Caprylyl Glycol, Ethylhexyl Glycerin, Matrixyl Synthe '6 (Peptide: Glycerin-Aqua-Hydroxyin-Propyl-Cyclodex-Palloylxtrlxtrlxtrlxl) Tripeptide-38), Regu-Age (Peptide: Glycine Soybean [Soybean] Protein-Hydrolyzed Rice Protein-Superoxide Dismutase), Potassium Sorbate, Sorbic Acid, Xanthan Gum, White Tea (Camellia Sinensis Extract), Steam Distilled Lime (Citrus Aurantifolia Extract ), Argan Oil (Argania Spinosa), Ceramide 3, Hydrolyzed Wheat Protein, Chamomile (Matricaria Recutita Flower Extract), Pomegranate Seed Oil (Punica Granatum)

About Mad Hippie:
The natural skin care from Mad Hippie is not only as safe as possible, but also as effective as possible. The philosophy of Mad Hippie? More actives. More results. That is why the products also contain a high concentration of anti-aging ingredients that really do something for the skin. All ingredients complement each other and work synergistically. The antioxidants, vitamins, peptides, alpha hydroxy acids (AHAs) and apple stem cells in the Mad Hippie products are the natural solution for aging skin.
Mad Hippie not only wants to produce high-quality and safe skin care, but also thinks it is important that they conduct corporate social responsibility. That is why Mad Hippie ensures that their impact on the environment is as small as possible. The airless pump packaging is BPA free and fully recyclable. They print with soy ink and only use alternative energy.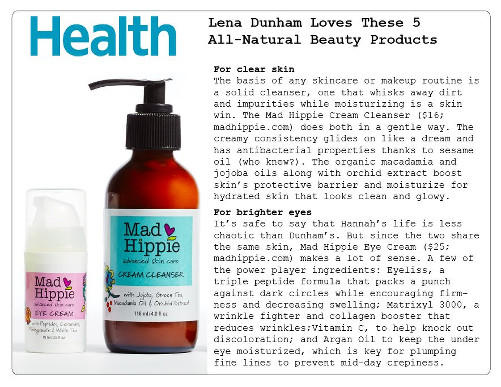 Mad Hippie Eye Cream


4,7
stars based on
11
reviews