Eye Cream
An award winning eye cream packed with powerful antioxidants and peptide that reduces visibility of wrinkles, skin discoloration and puffiness.
Deliverytime
Paid before 23.30 on working days, delivered tomorrow
An award winning eye cream packed with powerful antioxidants and peptide that reduces visibility of wrinkles, skin discoloration and puffiness. Read more
Available in the following variants:
Paid before 23.30 (Mon-Fri) = Shipped Same Day *.
Description
Mad Hippie Eye Cream
A powerful eye cream full of antioxidants and peptide!
The Award Winning (Cosmopolitan Latina Beauty Awards) Mad Hippie Eye Cream is a natural eye cream and is packed with powerful antioxidants and peptide. The eye cream reduces the visibility of wrinkles, skin discoloration and puffiness. This natural eye cream is the favorite natural beauty product from Lena Dunham. 
FAQ's
Can I apply this to my eyelids?
The Eye Cream is wonderful for the entire eye area, however, we encourage caution if you apply it to the lids as it is easy to get it into the eyes during application. It could potentially be irritating if it were to get into the eyes.

Does this help with discoloration?
We use a blend of three powerful peptides, ceramides, niacinamide, and antioxidants to improve the appearance of under eye discoloration and hydrate the delicate skin surrounding the eyes.

Does this reduce puffiness?
Our Eye Cream is a blend of peptides, antioxidants, and bioavailable vitamins formulated to nourish and hydrate the eye area, while improving the appearance of discoloration and puffiness. We encourage customers to thoroughly (and gently) massage the cream into the eye area before bed for best results.
Packaging
Boxes are printed with soy inks on FSC certified paper. Tubes are made of sustainably harvested sugarcane bioresin and are recyclable.

Characteristics:
- 100% natural
- Airless pump packaging BPA free and 100% recyclable
- Not tested on animals
- Vegan
- Content: 15ml

Ingredient highlights:
Eyeliss (triple peptide complex, reduces dark circles and increases skin firmness and elasticity)
Regu-age (peptide complex that reduces swelling and dark circles around the eyes)
Matrixyl 3000 (powerful anti-aging peptide that stimulates the natural production of collagen, elastin and hyaluronic acid)
Haloxyl (dual peptide, improves complexion and firmness of the skin)
Chamomile extract (soothes and calms the skin)
Pomegranate (powerful antioxidant with a high content of ellagic acid)
Vitamin C (very powerful antioxidant, stimulates the production of collagen, for a shiny skin)
Wheat protein (moisturizes and firms the skin)
Niacinamide (vitamin B3, inhibits damage caused by UV radiation, stimulates collagen production)
Argan oil (contains a high concentration of vitamin E, essential fatty acids and phytosterols)
Buckwheat (for an even complexion, reduces dark circles and bags)
White tea (strong antioxidant, neutralizes free radicals and prevents damage from UV radiation)
Ceramide (protects and repairs the skin)
Vitamin E (reduces fine lines and wrinkles and protects against free radicals)

What magazines say about the Mad Hippie Eye Cream

"Best Eye Cream" - Cosmopolitan Latina's Beauty Awards

"Packs a punch against dark circles" - Health Magazine
Ingredients (INCI):
Deionized Water (Aqua), Caprylic/Capric Triglycerides, Shea Butter (Butyrospermum Parkii), Niacinamide, Syn-Eye (Peptide: Palmitoyl Tripeptide 5-Panthenol-Sodium Hyaluronate), Glyceryl Stearate, Glycerin, Matrixyl Synthe '6 (Peptide: Glycerin-Aqua-Hydroxypropyl Cyclodextrin-Palmitoyl Tripeptide-38), Polyglyceryl-2 Stearate, Glyceryl Stearate, Stearyl Alcohol, Regu-Age (Peptide: Glycine Soja [Soybean] Protein-Hydrolyzed Rice Protein-Superoxide Dismutase), Vitamin C (Sodium Ascorbyl Phosphate), Squalane (vegan), Caffeine, Hesperidin, Licorice (Glycyrrhiza Glabra Extract), Isopropyl Palmitate, Argan Oil (Argania Spinosa), Superox-C (Glycerin-Aqua-Terminalia Ferdinandiana (Kakadu Plum) Fruit Extract), Microcrystalline Cellulose (and) Cellulose Gum, Vitamin E (Tocopherol), Chamomile (Matricaria Recutita Flower Extract), Phenethyl Alcohol, Caprylyl Glycol, Ethylhexyl Glycerin, Pomegranate Seed Oil (Punica Granatum), Xanthan Gum, Camellia Sinensis (White Tea) Extract , Steam Distilled Citrus Aurantifolia (Lime) Extract, Ceramide 3

About Mad Hippie:
The natural skin care from Mad Hippie is not only as safe as possible, but also as effective as possible. The philosophy of Mad Hippie? More actives. More results. That is why the products also contain a high concentration of anti-aging ingredients that really do something for the skin. All ingredients complement each other and work synergistically. The antioxidants, vitamins, peptides, alpha hydroxy acids (AHAs) and apple stem cells in the Mad Hippie products are the natural solution for aging skin.
Mad Hippie not only wants to produce high-quality and safe skin care, but also thinks it is important that they conduct corporate social responsibility. That is why Mad Hippie ensures that their impact on the environment is as small as possible. The airless pump packaging is BPA free and fully recyclable. They print with soy ink and only use alternative energy.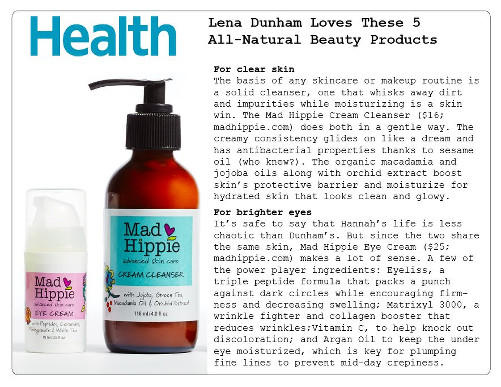 Mad Hippie Eye Cream


Important Info
| | |
| --- | --- |
| Smell/Color/Texture | Natural products may vary in scent, color and texture from batch to batch |
| Sealing | This product (possibly) comes without a seal. Sustainability is a priority for many brands and for that reason they do not want to add unnecessary plastic to their packaging. |
| Colour | The actual color of the product may differ from the photo accompanying the item. |
| Shelf Life | Products will have a minimum shelf life of 3 months, unless stated otherwise with the product |
| Ingredients | The ingredients list may change from time to time. Please refer to the ingredients list on the packaging for the most current ingredients list. |
| Note: | Use of products is at your own risk. Opened and/or used products cannot be returned. |
| Images | The images shown have a purely indicative purpose and may be subject to changes by the manufacturers. |
4,5
stars based on
15
reviews