Add your review
Vitamin C Serum
Vitamin C Serum
This Award winning vitamin C serum is a harmonic blend of antioxidants that work wonders for aging and sun-damaged skin. Reduces wrinkles, hyper pigmentation and prevents photo aging. Read more
Ordered before 22:00, delivered tomorrow.
Bewust Puur!
Super Quick Delivery

Ordered on weekdays before 10p.m. = Delivered the next Day *

SHIPPING €4,95 (NL) & €6,95 (BE)

Free from € 65 (NL) & € 100 (BE & DE)

Quality Products

Only Award Winning Brands

EXCELLENT SERVICE

Customers rate us with a 9.4/10
Description
Mad Hippie Vitamin C Serum 30 ML
Mad Hippie powerful Vitamin C serum that reduces hyperpigmentation and wrinkles!
This Award winning vitamin C serum from Mad Hippie is a harmonic blend of antioxidants that do wonders for aging and sun-damaged skin. Reduces wrinkles and hyper pigmentation and prevents photo aging. The form of vitamin C used in this serum is sodium ascorbyl phosphate (STAY-C® 50). This is a very stable form of vitamin C with a high bioavailability. 
Mad Hippie Vitamin C
Mad Hippie uses a different form of vitamin C than other companies. The most commonly used is ascorbic acid, which is very acidic and cannot easily pass through the lipid barrier of the skin. For this you need a concentration of around 15-20% to be effective. It can also cause acne outbreaks, since the ascorbic acid is on top of the skin and causes irritation.
Mad Hippie uses sodium ascorbyl phosphate instead, which is ascorbic acid with a salt molecule. This makes it easy to go through the lipid barrier of the skin, making it much more bioavailable. It also adds to its stability, making it less sensitive to oxidation (a major concern for ascorbic acid). Our serum will also fight acne outbreaks!

Mad Hippie does not give exact percentages of most ingredients, because we do not want to focus our customers on just one ingredient when it is really about the gestalt of the formulation, where all different actives work together. For example, the addition of ferulic acid + vitamin E was recently shown in a Duke study to topically double-protect photo protection of vitamin C.

You also cannot easily compare different forms of vitamins by percentage, as some are considerably more biologically available than others. Our vitamin C serum is very powerful, yet soft. It would compare in effectiveness on a product with 20% ascorbic acid. The manufacturer of Sodium Ascorbyl Phosphate recommends a 3-5% range. We are considerably higher than this.

It is great to improve the appearance of the skin, reduce hyperpigmentation and combat acne. It is called "A Miracle Worker" by Allure, "Glow-Getter Serum" by InStyle and received many prizes. We welcome people to try this product compared to other vitamin C serums and decide for themselves.
The Mad Hippie Vitamin C serum is the big favorite of Victoria's Secret model Bridget Malcolm.
Characteristics:
- 100% natural
- Reduces wrinkles and hyper pigmentation and prevents photo-aging.
- Not tested on animals
- Vegan
- Content: 30ml
{br} Ingredient highlights:
Vitamin C (stimulates collagen production and reduces wrinkles and discoloration for radiant skin)
Ferulic acid (antioxidant, reduces skin damage by up to 8 times due to UV radiation)
 Vitamin E (
Hyaluronic acid (for fuller skin and reduces the appearance of wrinkles)
Konjac root powder (makes the skin soft and smooth)
Grapefruit (natural exfoliant, removes dead skin cells)
Chamomile extract (soothes and calms the skin)
Clary sage (regulates sebum production, with antibacterial and antiseptic properties)

What magazines say about the Mad Hippie Vitamin C serum:
" The Fox Vitamin C Serum is a miracle worker " -Allure
" Glow-Getter Serum " -InStyle

Ingredients (INCI):
Water Deionized, Vitamin C (Sodium Ascorbyl Phosphate), Alkyl Benzoate, Vegetable Glycerin, Water, Glycerin, Sodium Levulinate, Sodium Anisate, Clary Sage (Salvia Sclarea), Grapefruit (Citrus Grandis), Hyaluronic acid, Amorphophallus Konjac Root Powder, Aloe Barbadensis Leaf, Vitamin E (Tocotrienol), Ferulic acid, Chamomile Flower Extract (Recutita Matricaria), Sodium Phytate, Xanthum Gum, Hydroxyethylcellulose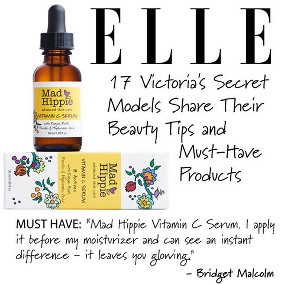 4,8
stars based on
8
reviews