Add your review
Cream Cleanser
A mild, moisturising cleansing cream packed with antioxidants
Read more
Ordered before 23:00, delivered tomorrow.
Cream Cleanser
A mild, moisturising cleansing cream packed with antioxidants
Ordered before 23.30 on working days, delivered tomorrow
A mild, moisturising cleansing cream packed with antioxidants Read more
Ordered before 23:00, delivered tomorrow.
Description
Mad Hippie Cream Cleanser
A mild, moisturizing cleansing cream full of antioxidants!
The Mad Hippie Cream Cleanser is a natural cleansing cream that removes dirt and impurities and ensures a soft, hydrated skin. This natural cream cleanser is the favorite natural beauty product from Lena Dunham.
This mild acid cream cleanser is pH perfect and supports the natural balance of the skin or protective oils. Far too alkaline cleaning agents strip the skin or the acid mantle, a protective layer of oil. Extra antioxidants and moisturizing oils make the skin soft and smooth, while dirt and impurities are gently washed away.
Ingredient highlights:
- Organic jojoba oil (moisturizes and nourishes the skin, works antibacterially)
- Orchid extract (protects and repairs the skin)
- Organic macadamia oil (gives immediate hydration)
- Sodium hyaluronate (salt form of hyaluronic acid, more effective than normal hyaluronic acid)
- Algae extract (nourishes the skin and ensures that the skin retains moisture)
- Sesame Oil (healing, antibacterial and rich in antioxidants )
- Green tea (protected and anti-inflammatory)
- Sodium PCA (hydrates by absorbing and retaining moisture in the skin)
- Shea Butter (rich in antioxidants and essential fatty acids)
Organic Jojoba oil - This natural moisturizer closely resembles the sebum of our skin and is easily absorbed by the skin. Works to provide a protective barrier.
Orchid extract - Rich in minerals and moisturizing compounds that have long been used for their beneficial effects. It is thought that orchid extract contains an agent that slows down the degeneration of the flower, allowing the orchid to flower dramatically longer than other flowers.
Organic Macadamia oil - This exclusive oil contains high levels of naturally occurring skin protecting palmitoleic acid, an essential component of sebum, the skin's natural oil. It absorbs quickly into the skin to provide immediate moisturizing effects.
Sodium hyaluronate - The hyaluronic acid (HA) salt, sodium hyaluronate, has been shown to have better penetrating properties of the skin than HA alone. Works to hydrate the skin and reduce wrinkles.
Algae Extract - Mineral and antioxidant-rich algae extract nourishes aging skin and hydrates through its water-binding properties.
Sesame oil - Antioxidant-rich sesame oil has long been used in Ayurvedic medicine. It is rich in various powerful antioxidants, including vitamin E and vitamin A that help smooth the skin and reduce wrinkles.
Green tea - Powerful antioxidant from tea leaves.
Sodium PCA - derived from amino acids, sodium PCA is a naturally occurring moisturizer in the skin with high water-absorbing properties. Works to effectively hydrate the skin by absorbing and binding moisture.
Shea butter - Shea butter has been used for centuries in Africa for its hydrating and calming properties and is a rich source of powerful antioxidants, vitamin A & E, crucial fatty acids and cinnamic acid.

Characteristics:
- 100% natural
- Not tested on animals
- Vegan
- Content: 118 ML


What magazines say about the Mad Hippie Cream Cleanser
" Softening skin while removing impurities " - Mother Earth Living
"Hydrated skin that looks clean & glowy" - Health Magazine
Ingredients (INCI):
Deionized Water, Sesame Oil (Sesamum Indicum), Caprylic/capric Triglycerides, Shea Butter (Butyrospermum Parkii), Cetearyl Glucoside, Carrageenan Gum, Vegetable Glycerin, Caprylhydroxamic Acid, Caprylyl Glycol, Sodium PCA, Green Tea (Camellia Sinensis Leaf), Jojoba (Simmondsia Chinensis), Squalene, Organic Macadamia Oil (Macadamia Ternifolia Seed Oil), Organic Jojoba Oil (Simmondsia Chinesis), Yeast Extract, Glucosamine HCL, Vitamin E (Tocopheryl), Sodium Hyaluronate, Algae Extract, Orchid Extract (Orchis Mascula), Titanium Dioxide
About Mad Hippie:
The natural skin care from Mad Hippie is not only as safe as possible, but also as effective as possible. The philosophy of Mad Hippie? More actives. More results. That is why the products also contain a high concentration of anti-aging ingredients that really do something for the skin. All ingredients complement each other and work synergistically. The antioxidants, vitamins, peptides, alpha hydroxy acids (AHAs) and apple stem cells in the Mad Hippie products are the natural solution for aging skin.
Mad Hippie not only wants to produce high-quality and safe skin care, but also thinks it is important that they conduct corporate social responsibility. That is why Mad Hippie ensures that their impact on the environment is as small as possible. The airless pump packaging is BPA free and fully recyclable. They print with soy ink and only use alternative energy.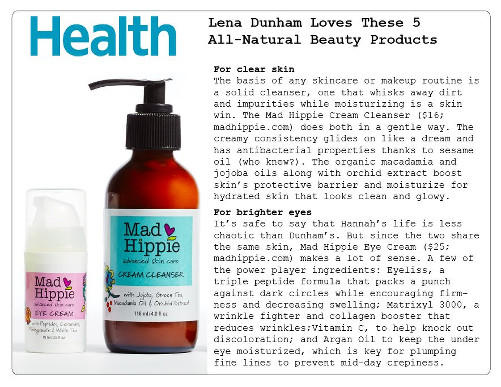 Mad Hippie Cream Cleanser


4,9
stars based on
10
reviews