Add your review
Refill Body Wash (500ml)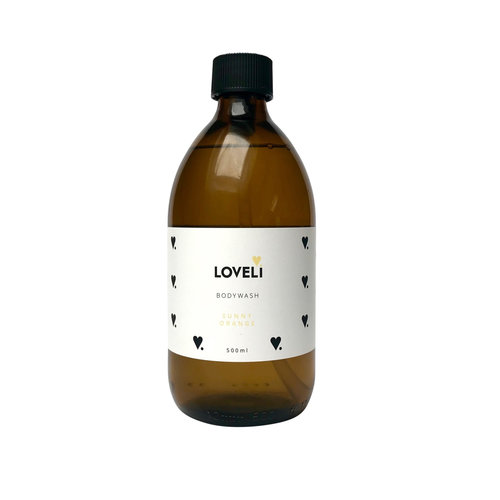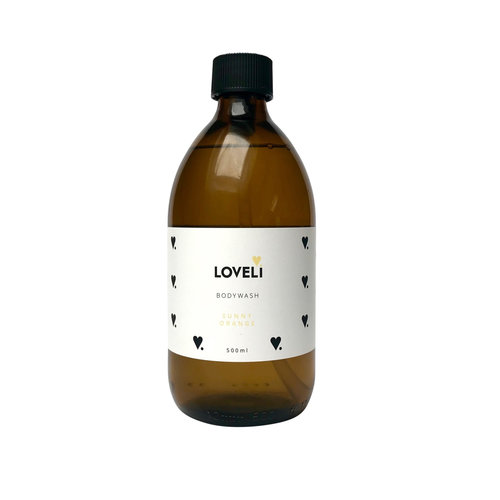 Ordered before 23;30:00, delivered tomorrow.
Ordered before 23.30 on working days, delivered tomorrow
Refill for Loveli body wash. Read more
Ordered before 23:30, delivered tomorrow.
Description
Loveli BodyWash
Refill for the Loveli body wash. With this glass bottle of 500 ml you can refill the normal (plastic) bottle 2.5 times. Better for your wallet and better for the environment. With the convenience of a plastic bottle in your bathroom.
Please note: this refill bottle only works as a refill for the normal body wash in foam bottle. Without this foam bottle the body wash does not foam.
The 100% natural body wash from Loveli is super soft for your skin. The delicious foam is made from coconut oil and is mild and non-irritating. You can also use it as a shaving cream. With the essential oils of orange and lemon and a dash of vanilla for an addictively delicious scent.
Do you recognize that when you shower, your skin feels so tight? That you have to use body lotion every day to solve that? Then it is possible that you are using an aggressive cleaner. Most shower products contain SLS or SLES, a super strong cleaner that foams super well, but also strips your skin of the skin's own oils. And it kicks in the pH value of your skin, so you can get sensitive skin from it. And you need a lot of body lotion to get soft skin again.
Like the Loveli facewash, the body wash by Loveli is made from coconut oil. The foam bottle provides the foam, you do not need any aggressive substances. The soft foam not only cleans your skin, it maintains the balance of your skin, so that your skin naturally feels less dry.
The body wash has the fragrance Sunny Orange, a combination of sweet orange, lemon and a touch of vanilla.
Use
Use in the shower as a shower gel or shaving foam.
Characteristics:
- 100% natural ingredients
- Suitable for all skin types
- Free from mineral oils, silicones, parabens, sulphates, gluten and artificial colors
- Without SLS
- Allergen-free perfumed
- No animal testing
- Sulfate free
- Vegan
- 500 ml
Ingredients (INCI):
Coconut betaine (washing powder made from coconut oil), water, glycerin, essential oils of orange and lemon, natural preservative (combination of benzyl alcohol, benzoic acides sorbic acid), vanilla perfume (natural) and citric acid.
INCI: COCAMIDOPROPYL BETAINE (WASH-BASED COCONUT), AQUA (WATER), GLYCERINE, CITRUS SINAS SINENSIS (ORANGE PEEL OIL), CITRIC ACID (LEMONIC ACID), PERFUME (NATURAL), CITRUS LIMONEL OIL (LEMON PEEL) , BENZYL ALCOHOL *, BENZOIC ACID *, SORBIC ACID *, LIMONENE **, LINALOOL **, DECENAL **, CITRAL ** (* NATURAL CONSERVATOR ** NATURAL INGREDIENTS ESSENTIAL OILS)
Cocamidopropyl betaine: This wax raw material is extracted from fatty acids from coconut oil and is not irritating and mild.
Glycerine: produced from coconut oil. Is moisture-retaining and increases the foaming power of cocamidopropylbetaine.
Citrus sinas sinensis (orange peel oil): the essential oil of orange has a fresh sparkling scent with stimulating properties
Citric acid: citric acid, used to lower the pH of the facewash to an ideal level for your skin.
Citrus limonum (lemon peel oil): the essential oil of lemon is activating and invigorating
Limonene, linalool, decenal, citral: these are not ingredients, but natural components of the essential oils of orange and lemon. It is mandatory to state this on the label.
5
stars based on
4
reviews