Add your review
Refill Face Oil - Night (60ml)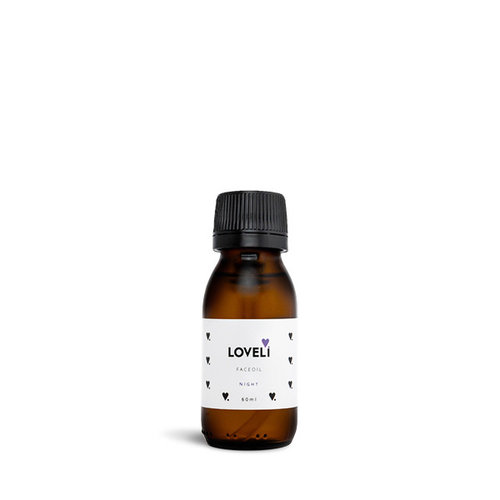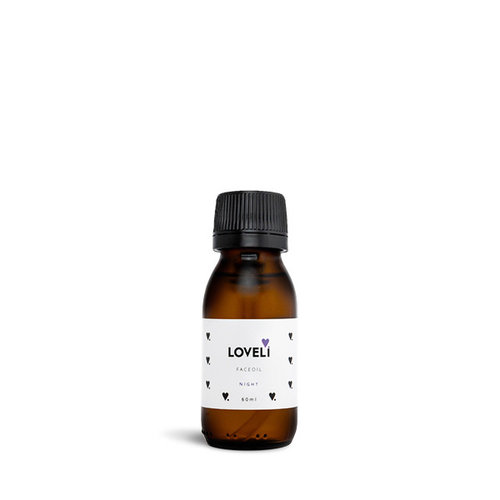 Refill for the Loveli Face oil Night.
Read more
Ordered before 23;30:00, delivered tomorrow.
Refill Face Oil - Night (60ml)
Ordered before 23.30 on working days, delivered tomorrow
Refill for the Loveli Face oil Night. Read more
Description
Loveli Face Oil - Night
Natural face oil for at night!
Refill for the Loveli Face oil Night. With this glass bottle of 60 ml you can refill the normal (plastic) bottle 2 times. Better for your wallet and better for the environment. With the convenience of a plastic bottle in your bathroom.
This natural face oil from Loveli is a wonderful face oil that is specially meant for at night when your skin is going to recover. The super beautiful oils restore your skin from everything it has had to endure during the day from sunlight, wind, air conditioning and air pollution. With wild rose oil for the recovery of dry, flaked and sun-damaged skin. This Face oil Night has the stimulating scent of rose.
Prefer to try first? Click here for the sample set.
Why use a face oil?
Why a face oil instead of a night cream? Most night creams consist of more than 70% water. Water that cannot absorb your skin at all and therefore does nothing for your skin. Of the remaining 30%, a portion goes to the emulsifier that ensures that the cream remains a cream and does not fall apart in water and oils, and then you also need a good preservative to ensure that it stays good for a while. The percentage of active substances that remains then is quite low.
Almost 100% of Loveli's face oils consist of pure oils. Only vitamin E has been added as an antioxidant. The Face oil Night is composed of 4 super beautiful oils that together take care of the care and repair of your skin after all it has to endure during the day due to sunlight, wind, air conditioning and air pollution. In contrast to the Face oil Day, the Loveli Face oil Night moves in much less quickly, but especially very deeply. So that it can do its restorative effect there. The Loveli Face oil Night is less suitable for the daytime, because the special oils in this face oil are light sensitive.
Use
One pump is enough for your face and neck and even neckline if you want to pull it through. Use the face oil after the facewash and the facemist. The Face oil Night is primarily intended for at night. Use the Loveli Face oil Day for the day.
Characteristics:
- 100% natural ingredients
- Suitable for all skin types
- Free from mineral oils, silicones, parabens, sulphates, gluten and artificial colors
- Without SLS
- Allergen-free perfumed
- No animal testing
- Sulfate free
- Vegan
- 60 ml
Ingredients (INCI):
Cucumis Sativus Seed Oil (Cucumber Seed Oil), Simmondsia Chininis (Golden Jojoba Oil), Rosa Moschata (Wild Rose Oil), Tocopherol (Vitamin E), Helianthus Annuus Seed Oil (Sunflower Oil), Pelargonium Graveolens (Essential Oil of Geranium), Citronellol *, Geranium *, Citronelly acetate *, Geranyl acetate *, Rose oxide * (* Natural Ingredients Essential Oils)
The Face Oil Night consists of (in order of quantity):
Cucumber seed oil, golden jojoba oil, wild rose oil, the essential oil of geranium and vitamin E.
Cucumber seed oil is made from the seeds of the cucumber and that gives a beautiful, delicate oil that is very suitable for sensitive skin. The phytosterols in this oil help restore your skin barrier, restoring moisture balance and making your skin softer, smoother and more elastic. It nourishes your skin and stimulates the production of healthy new cells. This oil makes your skin super soft and full in no time.
Golden jojoba oil: this oil penetrates deep into your skin and regulates the moisture balance. It makes the skin smooth and supple, strengthens connective tissue and prevents wrinkles. Jojoba oil is anti-allergenic and suitable for all skin types.
Wild rose oil: this oil is extracted from the fruit seeds of the wild rose and is very vitamin-rich. Due to the high content of alpha-linolenic acid, it helps with cell renewal and the recovery of dry, scaly or sun-damaged skin. It regulates moisture management and strengthens cell membranes and the elasticity of the skin.
Geranium essential oil: this oil gives the Loveli Face oil Night the wonderful rose scent that is used in aromatherapy as a mood enhancer. But for your skin this essential oil is also fantastic because of its cell regenerating and anti-inflammatory effect. Very suitable for mature skin. Oh yes, it is also aphrodisiac ;-).
Vitamin E: a powerful antioxidant
5
stars based on
7
reviews