Add your review
Deodorant - Sensitive Mini (6g)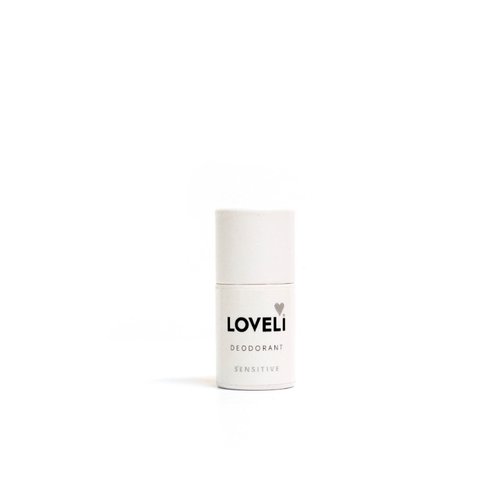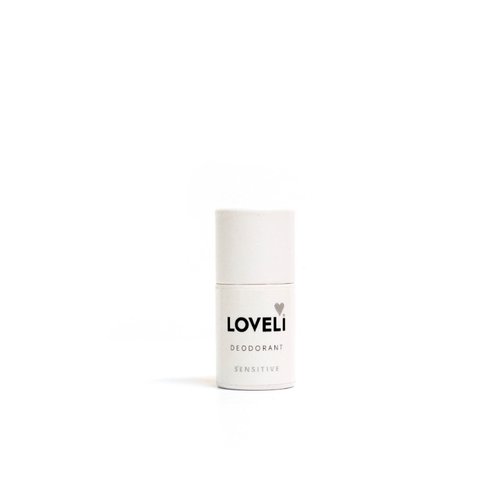 This mini deo is ideal if you want to try the Loveli deo. Or as an extra deo in your bag. Or for a weekend away :-).
Read more
Paid before 23.30 (Mon-Fri) = Shipped Same Day *.
Deodorant - Sensitive Mini (6g)
This mini deo is ideal if you want to try the Loveli deo. Or as an extra deo in your bag. Or for a weekend away :-).
Deliverytime
Deodorant - Sensitive Mini (6g)
Paid before 23.30 on working days, delivered tomorrow
This mini deo is ideal if you want to try the Loveli deo. Or as an extra deo in your bag. Or for a weekend away :-). Read more
Buy

5

for

€2,85

each and save

5%

5% Discount
Description
Loveli Deodorant - Sensitive
Pure natural deodorant from Loveli without aluminum!
Pure natural deodorant stick without aluminum, which really works. Based on coconut oil and baking soda. Fresh Cotton is an all natural perfume with the freshness of freshly washed cotton.
♥. Handy for traveling, lasts at least 2 weeks
♥. Do not close your sweat glands, but immediately neutralize sweat odor
♥. With zinc oxide against sress, emotion and hormonal sweat
Pure natural deodorant stick without aluminum, that really works.
The Loveli deodorant contains the natural salt sodium bicarbonate as the most important active ingredient. Because it works great in neutralizing unwanted odors. Unfortunately about 2% of people are sensitive to sodium bicarbonate and after 2 weeks of use they get rash or stains.
Do you also have sensitive skin? Then that does not mean that you can forget the natural deos. This is because Loveli deodorant Sensitive Skin still only has natural ingredients, but now with extra arrowroot to soften the skin. With the essential oil Sandalwood that not only smells wonderfully soft, but is also anti-inflammatory. Plus the essential oil Bergamot that is antiseptic and that gives you a feeling of happiness.
Please note: this deo is less strong than the other Loveli deos and I would only order it if you are sensitive to sodium bicarbonate.
The packaging is made of BPA-free polypropylene (plastic). It can be recycled with the rest of your plastic waste.
You can now also buy a refill for the Loveli deodorant. This saves you waste and is better for the environment and your wallet.
Zinc oxide for extra protection against stress sweat
Stress or emotion sweat is different from sweat that is caused by the heat. It contains more fatty acids than ordinary sweat and the bacteria on your skin love these fatty acids. They are the cause of your sweat odor. Zinc oxide converts these fatty acids into odorless zinc salts before the bacteria can do their work. What makes zinc a doubly strong weapon in the fight against odor is that it is antibacterial at the same time. So there are less bacteria on your skin anyway that can cause the sweat odor.
Good to know about the Loveli Deo's
The mini deo has a content of about a quarter of a normal Loveli deo
We do not fill the mini deo to the brim, because then it will become too greasy. You simply push the bottom of the stick upwards for use.
The mini deos are filled by hand, so not every stick contains the same amount of deo, but always at least 6 grams.
The mini stick is made of cardboard. Throw it in the trash when it is on. It is a bit too fat for the old paper.
You can do about 2 weeks with a mini stick. Are you through it faster, then you probably smear a little too much.
This natural deodorant does not seal your skin. So you still sweat (otherwise your body can't get rid of its waste), but you can't smell it.
If you have sensitive skin quickly, your skin can react with a red rash. Immediately put some coconut oil on it and switch to the sensitive version can be the solution. But usually you get a more beautiful skin through all the fine ingredients.
The shea butter in the deodorant can stain your clothes. Of course you can wash it out, but it is better to let the deodorant dry before putting on your clothes.
Really use very little of the deo. The deo has a high concentration of sodium bicarbonate, so you only need very little to keep smelling fresh all day long. If you use too much, you will quickly go through your deo, but you also have a chance of irritating your skin. Two stripes per armpit is enough to be protected.
The zinc oxide in the deo gives a bit of a white haze. This absorbs quickly, but if you have darker skin, you will continue to see the white haze for a while. It is best to let the deo withdraw before you get dressed. Then you will not get stains on your clothes.
The zinc oxide repairs your skin in case of irritations while protecting sensitive skin
You do an average of 6 weeks with 1 small deodorant stick or over 3 months with a large stick.
The packaging is made of polypropylene (plastic). It can be recycled with the rest of your plastic waste, but it's even more environmentally friendly to refill it with a refill.
If your body has really become addicted to the ingredients in your regular deo, it may first seem like you are going to sweat worse. Your body is detoxing. Hold on, it's worth it!
Loveli deodorant contains no:
parabens
phenoxyethanol
silicone
PEGs
synthetic perfumes / dyes
animal products unless naturally produced by them, such as milk and honey
Characteristics Loveli deo:
- 100% Natural
- Aluminum free
- SLS free
- Doesn't contain Ethyl Alcohol & Ethanol
- Free from mineral oils, silicones, parabens, EDTA, BHT-BHA and artificial colors
- No animal testing
- From Dutch soil
- 6g
Ingredients (INCI): 
The deostick is made of (in order of quantity): coconut oil, arrowroot, beeswax, shea butter, zinc oxide, sodium bicarbonate (baking soda), vitamin E, sandalwood essential oil and bergamot oil.
The Sensitive skin deo has no perfume added and is practically odorless.
INCI: Cocos Nucifera Oil (Coconut Oil), Maranta Arundinacea Root Powder (Arrowroot), Cera Alba (Beeswax), Butyrospermum Parkii (Sheabutter), Zinc Oxide (Uncoated, Non-Nano), Sodium Bicarbonate, Tocopherol (Vitamin E), Santalum Album (Sandalwood) Oil, Citrus Bergamia Bergamot) Oil, Citral *, Limonene *, Linalool * (* Natural Ingredients Essential Oils)
Important Info
| | |
| --- | --- |
| Smell/Color/Texture | Natural products may vary in scent, color and texture from batch to batch |
| Sealing | This product (possibly) comes without a seal. Sustainability is a priority for many brands and for that reason they do not want to add unnecessary plastic to their packaging. |
| Colour | The actual color of the product may differ from the photo accompanying the item. |
| Shelf Life | Products will have a minimum shelf life of 3 months, unless stated otherwise with the product |
| Ingredients | The ingredients list may change from time to time. Please refer to the ingredients list on the packaging for the most current ingredients list. |
| Note: | Use of products is at your own risk. Opened and/or used products cannot be returned. |
| Images | The images shown have a purely indicative purpose and may be subject to changes by the manufacturers. |
0
stars based on
0
reviews
No reviews found...