Add your review
Vegan Dental Floss Lemon (Plastic Free)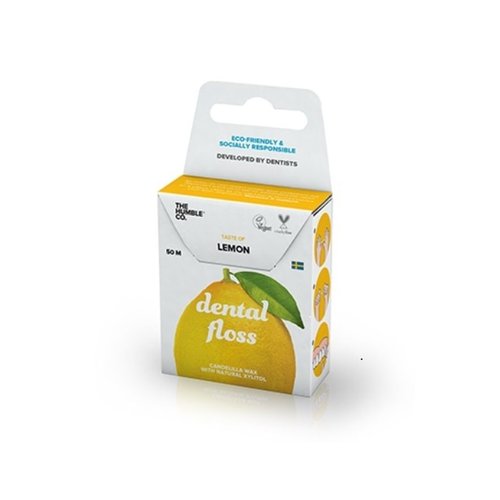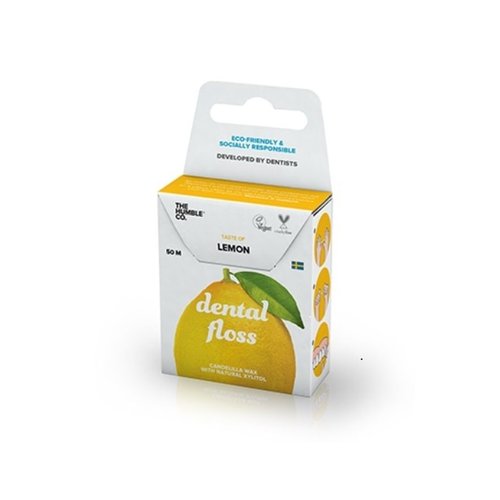 Humble dental floss is coated in natural candelilla waz, whereby the floss is 100% vegan, and is not tested on animals
Read more
Paid before 23.30 (Mon-Fri) = Shipped Same Day *.
Vegan Dental Floss Lemon (Plastic Free)
Paid before 23.30 on working days, delivered tomorrow
Humble dental floss is coated in natural candelilla waz, whereby the floss is 100% vegan, and is not tested on animals Read more
Available in the following variants:
Paid before 23.30 (Mon-Fri) = Shipped Same Day *.
Description
Vegan Dental Floss (Plastic Free)
If flossing is part of your daily routine, your teeth can look brighter by cleaning up food scraps that your toothbrush cannot reach. Flossing not only removes plaque but ultimately prevents tartar build-up, tooth decay and gum disease. Humble floss is also strong and durable with mint, lemon or cinnamon flavors and xylitol to ensure that your floss experience is just as efficient, pleasant and effective as possible. In addition, part of every purchase goes to the financing of dental care projects for children in need around the world.
In addition to the many health benefits, Humble floss packaging is also better for the earth than traditional floss dispensers. Today, no fewer than 700 million floss containers are thrown away every year in the world's oceans and landfills. To reduce the consumption of single-use plastic, The Humble Co eliminated. the need for a plastic sleeve for floss, because the packaging of recyclable paper cardboard packaging is itself converted into the floss dispenser.
Instead of coating the floss in traditional gelatin or PFC - perfluorinated composite polymer, Humble Brush does it differently The Humble dental floss is coated in natural candelilla wax, making the floss 100% vegan and Cruelty Free.
PFCs are also known to be dangerous because they are infamous chemical contaminants associated with thyroid disease and can be harmful to the environment when thrown into our oceans and landfills
Important Info
| | |
| --- | --- |
| Smell/Color/Texture | Natural products may vary in scent, color and texture from batch to batch |
| Sealing | This product (possibly) comes without a seal. Sustainability is a priority for many brands and for that reason they do not want to add unnecessary plastic to their packaging. |
| Colour | The actual color of the product may differ from the photo accompanying the item. |
| Shelf Life | Products will have a minimum shelf life of 3 months, unless stated otherwise with the product |
| Ingredients | The ingredients list may change from time to time. Please refer to the ingredients list on the packaging for the most current ingredients list. |
| Note: | Use of products is at your own risk. Opened and/or used products cannot be returned. |
| Images | The images shown have a purely indicative purpose and may be subject to changes by the manufacturers. |
0
stars based on
0
reviews
No reviews found...