Add your review
Sandwich Cutters - Unicorn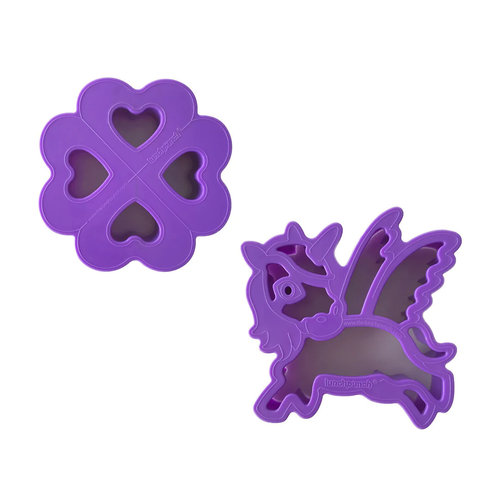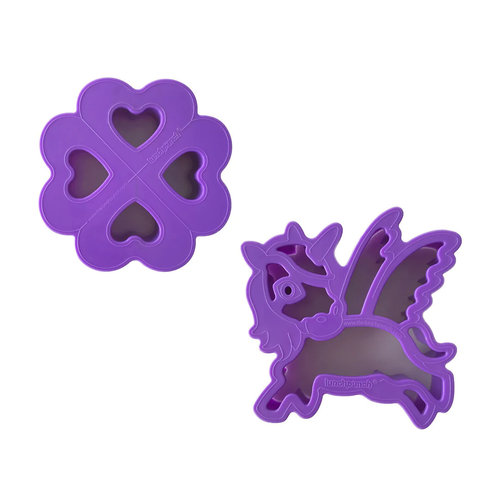 Lunchpunch
Article code
Cutter123-Unicorn
A unicorn lover's dream lunch is here!
Read more
Paid before 23.30 (Mon-Fri) = Shipped Same Day *.
Sandwich Cutters - Unicorn
Paid before 23.30 on working days, delivered tomorrow
A unicorn lover's dream lunch is here! Read more
Description
Lunchpunch Sandwich Cutters - Unicorn
No more boring sandwiches with Lunch Punch Sandwich Cutters. Spark their imaginations with playful, magical lunch boxes featuring unicorns, dinosaurs, trains and other fun shapes. Food has never been this fun!
The Lunch Punch's quest to make food kids want to eat has reached the vast, shimmering ocean!
Each Lunch Punch UNICORN set includes:
1 x Large UNICORN sandwich cutter
1 x Quad heart sandwich cutter, to create 4 individual heart shaped pieces

The Lunch Punch sandwich cutters are taller than a cookie cutter to keep your sandwich light and fluffy, and specially designed to leave only the crust - minimising waste.
Using our cutters couldn't be easier - simply punch, press, peel and POP for super fun lunch creations.
Each lunch box accessory is specially designed to make lunch prep easy and to get children interacting with, enjoying and eating their food!
As every parent knows, it's a daily challenge to make a healthy and appealing lunch that kids will eat but with Lunch Punch accessories we make bento fun easy!
FAQ
How are lunch punch sandwich cutters different from a cookie cutter? 
The Lunch Punch are sandwich cutters specifically designed to capture the most amount of bread. They are taller than a cookie cutter making it easy to cut through a full sandwich, while keeping the bread light and fluffy. A fun lunch with minimum waste!
What else can I use my sandwich cutters for? 
The Lunch Punch cutters have many uses. Try them on other yummy foods like pancakes, fairy bread, slices of watermelon and fun craft activities like play-doh, stencilling and sand play.
What kind of bread works best? 
We recommend using fresh bread, it works best! The impressions won't be quite as sharp in a grainy bread, so a smooth bread (such as white, wholemeal or rye) gives the best results.
How do I get the most out of my lunch punch cutters? 
For the perfect Lunch Punch Sandwich PUNCH down firmly with both hands, FLIP your cutter over and PRESS in for finer details, PEEL the crusts away from the sandwich, POP your sandwich out using fingers or a bread knife, ADMIRE!!
What fillings are best to use for my lunch punch sandwiches? 
You can use any fillings you like! Our Lunch Punch Cutters do work best with less filling, if you want to add more fillings such as lettuce, salad and meats we recommend cutting your bread before adding fillings. With spreads, again less is more - it can be best to cut your bread before adding large amounts of spreads. For example, jam will ooze out the sides when pressed down.
Are your sandwich cutters safe for little hands? 
Yes! The Lunch Punch was designed with kids in the kitchen in mind too!
What ages are your sandwich cutters suitable for? 
Kids of all ages love sandwiches made using The Lunch Punch. (Even big kids! Ahem.. dads!) Our cutters are safe for little fingers, but most suitable for kids aged 3 and up.

Characteristics:
Dishwasher Safe
Made of USFDA approved food-grade virgin ABS plastic
BPA Free
Phthalate, Lead and PVC Free.
Both product and packaging are 100% recyclable. Packaging is made from cardboard, with clear PP windows.
What is BPA?
Bisphenol A (BPA) is an organic compound that is used in the production of plastic. It has been proven that these substances 'release' and can end up in our diet with adverse health consequences.
Important Info
| | |
| --- | --- |
| Smell/Color/Texture | Natural products may vary in scent, color and texture from batch to batch |
| Sealing | This product (possibly) comes without a seal. Sustainability is a priority for many brands and for that reason they do not want to add unnecessary plastic to their packaging. |
| Colour | The actual color of the product may differ from the photo accompanying the item. |
| Shelf Life | Products will have a minimum shelf life of 3 months, unless stated otherwise with the product |
| Ingredients | The ingredients list may change from time to time. Please refer to the ingredients list on the packaging for the most current ingredients list. |
| Note: | Use of products is at your own risk. Opened and/or used products cannot be returned. |
| Images | The images shown have a purely indicative purpose and may be subject to changes by the manufacturers. |
0
stars based on
0
reviews
No reviews found...