Add your review
Glass Spaghetti Dispenser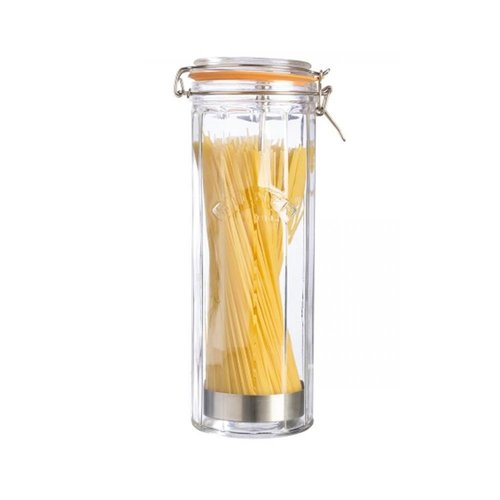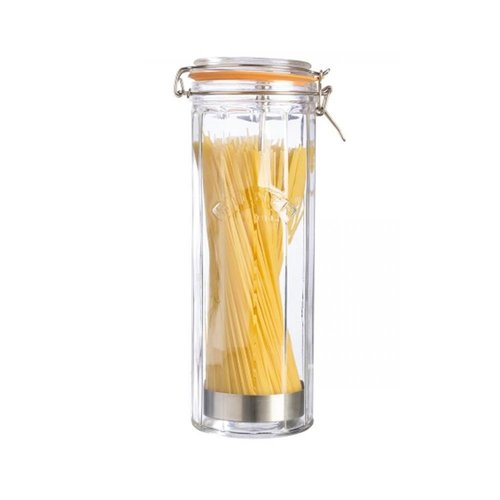 Kilner
Article code
RAY-0025-745
Beautiful glass dispenser for spaghetti.
Read more
Paid before 23.30 (Mon-Fri) = Shipped Same Day *.
Glass Spaghetti Dispenser
Paid before 11:30 PM (Mon-Fri) = Shipped Same Working Day*
Beautiful glass dispenser for spaghetti. Read more
Paid before 23.30 (Mon-Fri) = Shipped Same Day *.
Description
Kilner Glass Spaghetti Dispenser
Kilner® has developed a specially designed Spaghetti dispenser to keep your pasta airtight. To make life even easier we have added an additional unique feature… when you pull the handle up the spaghetti fans out so there is no need to lift the jar up and shuffle the pasta out. Simply lift and lock.
Dishwasher Safe
Do not pour boiling water directly into your jars/bottles
Wash before first use
Dimensions
Capacity: 2200ml
Length: 130mm
Width: 130mm
Height: 350mm
Characteristics:
- Brand: Kilner
- Content: 500ml
- Dishwasher safe
- Material: Glass & Stainless Steel
- BPA and phthalates free
What is BPA?
Bisphenol A (BPA for short) is an organic compound that is used in the production of plastic / plastic. It has been proven that these substances 'release' and can end up in our diet with adverse health consequences.
Important Info
| | |
| --- | --- |
| Smell/Color/Texture | Natural products may vary in scent, color and texture from batch to batch |
| Sealing | This product (possibly) comes without a seal. Sustainability is a priority for many brands and for that reason they do not want to add unnecessary plastic to their packaging. |
| Colour | The actual color of the product may differ from the photo accompanying the item. |
| Shelf Life | Products will have a minimum shelf life of 3 months, unless stated otherwise with the product |
| Ingredients | The ingredients list may change from time to time. Please refer to the ingredients list on the packaging for the most current ingredients list. |
| Note: | Use of products is at your own risk. Opened and/or used products cannot be returned. |
| Images | The images shown have a purely indicative purpose and may be subject to changes by the manufacturers. |
0
stars based on
0
reviews
No reviews found...