Add your review
Natural Scented Candle - Beautiful Life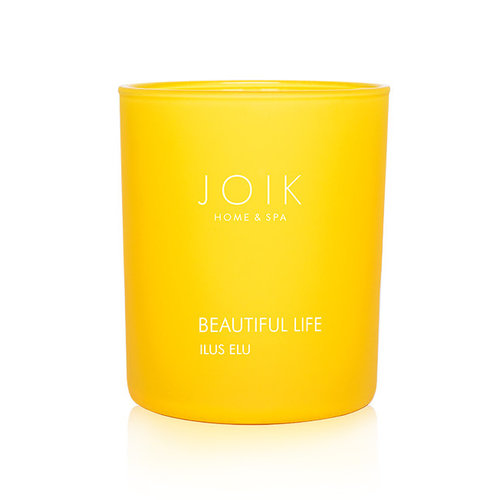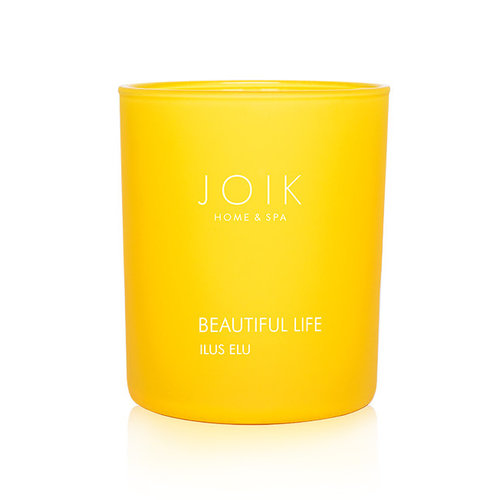 Joik
Article code
Geur1-Beautiful
Fragrant, rich and amazingly true lilac aroma smells like a walk in a early summer garden.
Read more
Paid before 23.30 (Mon-Fri) = Shipped Same Day *.
Natural Scented Candle - Beautiful Life
Paid before 11:30 PM (Mon-Fri) = Shipped Same Working Day*
Fragrant, rich and amazingly true lilac aroma smells like a walk in a early summer garden. Read more
Paid before 23.30 (Mon-Fri) = Shipped Same Day *.
Description
Joik Scented Candle 100% Natural
Beautiful Life: Captivating and addictive feminine scent that combines bright floral notes with fruits and subtle spices.
Note: Joik candles have a subtle scent. Natural scented candles smell much less strongly than candles with paraffin and chemical fragrances.
The candle wick is completely metal-free and made from unbleached cotton.
The Joik scented candles consist of 100% rapeseed wax, contain no paraffin, are 100% natural and biodegradable.
Benefits of rapeseed wax:
We use European rapeseed wax which ensures a smaller ecological footprint thanks to a shorter transport route.
Rapeseed does not cause monoculture and is not harmful to the environment. In fact, it is used for crop rotation and is normally sown before cereals.
Our rapeseed wax is GMO-free. Breeding genetically modified organisms is banned in Europe.
Rapeseed wax is biodegradable and burns longer and cleaner than paraffin.
Rapeseed wax is vegan
Characteristics:
- Burning hours: approximately 30 hours
- Weight: 145g
Ingredients:
Rapeseed wax, quality cosmetic grade fragrance oils, cotton wick

Candle tips:
Joik has extensively tested all its products to guarantee the highest quality. Experience has taught us the best way to make candles burn. Below are a few tips to keep your candles burning as long as possible and clean.
Always cut the wick to 5mm before lighting your JOIK candle. A fuse that is too long will cause the fuse to smoke. Failure to cut the wick can cause the flame to grow too large and cause the wick to produce smoke - burning a candle under these conditions can be dangerous and it also damages the quality of the candle burning experience. If you see the flame getting too big or smoking, extinguish the candle, cut the wick, and relight the candle.
Trim the wick to approximately 5 millimeters before use.
The first time the candle is lit: Burn the candle long enough until the top is completely melted for optimal burning hours. This ensures an even combustion of your candle. It is recommended that you follow this rule every time you burn the candle as it will ensure that you get the most out of your candle.
Do not burn the candle for more than 3-4 hours continuously.
Stop burning when you have 1cm or less wax in your JOIK candle.
Always burn a candle on a heat-resistant surface away from objects that could catch fire.
Use the candles in a well-ventilated area, but not in an air stream or in a draft.
Keep the wax of the candle clean of bits of wick, match and dirt at all times.
Extinguish any candle that smokes or flickers repeatedly or if the flame gets too high. Let the candle cool, trim the wick, check that there are no drafts in the room and light the candle again.
If the wax doesn't melt properly on one side, try bending or moving the wick slightly that way.
Do not let the flame get too close to the candle holder.
Never move a burning candle or a candle whose wax is still liquid.
Never leave a candle burning unattended.
Keep a burning candle out of the reach of children and pets.
If your glass has soot on the rim (because you didn't trim your wick...), use some paper towels to gently wipe it down and clean the glass.
Let your house smell wonderful with a Natural Scented Candle!
Important Info
| | |
| --- | --- |
| Smell/Color/Texture | Natural products may vary in scent, color and texture from batch to batch |
| Sealing | This product (possibly) comes without a seal. Sustainability is a priority for many brands and for that reason they do not want to add unnecessary plastic to their packaging. |
| Colour | The actual color of the product may differ from the photo accompanying the item. |
| Shelf Life | Products will have a minimum shelf life of 3 months, unless stated otherwise with the product |
| Ingredients | The ingredients list may change from time to time. Please refer to the ingredients list on the packaging for the most current ingredients list. |
| Note: | Use of products is at your own risk. Opened and/or used products cannot be returned. |
| Images | The images shown have a purely indicative purpose and may be subject to changes by the manufacturers. |
0
stars based on
0
reviews
No reviews found...