Add your review
Harmonic Treatment Oil (25ml)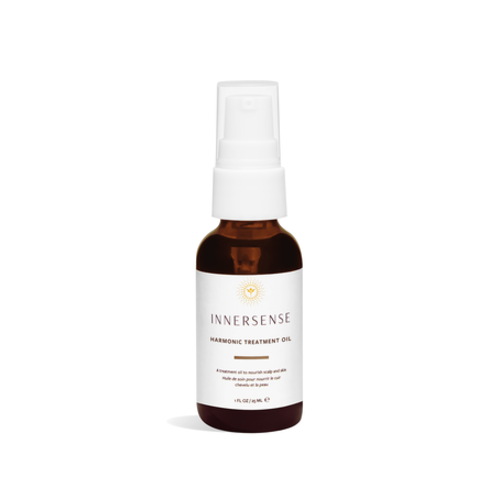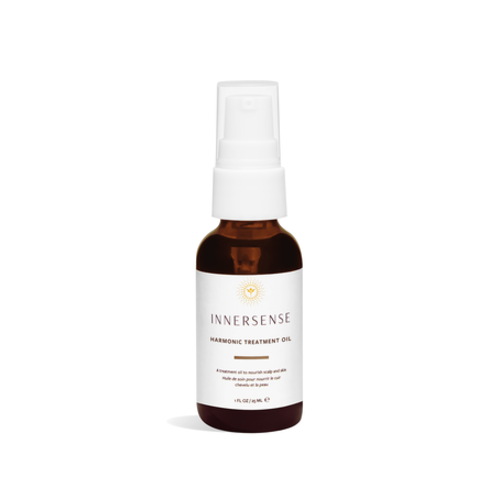 Treatment oil to nourish hair and scalp.
Read more
Paid before 23.30 (Mon-Fri) = Shipped Same Day *.
Harmonic Treatment Oil (25ml)
Paid before 11:30 PM (Mon-Fri) = Shipped Same Working Day*
Treatment oil to nourish hair and scalp. Read more
Paid before 23.30 (Mon-Fri) = Shipped Same Day *.
Description
Innersense Harmonic Treatment Oil
A treatment oil to nourish scalp and skin.
Nourish the scalp and skin with this rich treatment oil. Formulated with flower essences and oils, including evening primrose, macadamia and tamanu, to balance skin and scalp health and nutrition.
Ideal for everyone.
Healing oils with organic blends of flower essences and sacred oils are an extraordinary clean beauty practice to help restore, heal and care for your scalp, skin and hair. For maintaining healthy skin, scalp and hair, Innersense Organic Beauty invites you to explore our Harmonic Healing Oil to harmonize skin, scalp and hair and deliver healing, all-over nourishment. Innersense Organic Beauty Harmonic Healing Oil is truly a miracle in a bottle.
Fragrance note: Lavender
Active ingredients 
Safflower Seed Oil – is rich in protein, vitamins, and minerals, this is a mild, nearly odorless oil which absorbs quickly and is non-greasy. 
Evening Primrose Oil – is high in essential fatty acids, especially GLA or Gamma- linolenic acid. This oil exerts anti-inflammatory and other healing actions on and through the skin, and is particularly nourishing to nails, scalp, and hair. 
Macadamia Seed Oil – derived from the nut of a small evergreen tree, and is widely cultivated. This nourishing, vitamin-rich, light textured oil is used in emollients. 
Tamanu Oil – is a significant topical healing agent from the sacred tamanu tree. With its high levels of lipids, fatty acids and anti-inflammatory agents, it has tremendous anti-inflammatory and antioxidant activity. It has a mild, pleasant aroma and a luxurious feel, absorbing readily into the skin, leaving it soft and smooth. 
Hazel Seed Oil – obtained from the hazelnut tree, this is a light, non-greasy, toning oil for combination skin types. 
Orange Flower Oil – defines and intensifies curls and waves while providing a harmonizing and uplifting natural aromatic top note. 
Jojoba Seed Oil – this beautiful golden oil is extracted from the bean like seeds of the jojoba desert shrub. A soothing, non-greasy, nourishing oil for all skin types, this natural oil (actually liquid wax) most resembles our own skin oils. It is excellent for use in dry to normal skin and hair care.
Rosemary Essential Oil – is known for its healthy influence on the scalp by increasing circulation which is beneficial for stimulating hair growth.
Use 
Apply 1-2 pumps to fingertips and gently massage into the scalp to deliver nourishment and return natural balance.
Innersense Organic Beauty products:
This is what you can count on in Innersense Organic Beauty formulations:
Ingredients directly from nature, organically and sustainably grown without chemicals.
Harvested ethically and from trusted, transparent plantations, orchards and farms from all over the world
Formulated by conscious chemistry; cold-pressed, distilled or otherwise processed without synthetic substances to maintain its purity
Formulated free of phthalates, ethoxylates, sulfates, silicones, 1,4-dioxane, parabens, petro compounds, propylene and butylene glycol, PEG, MEA, TEA, MIA, EDTA artificial colors or synthetic fragrances
High concentrations of important ingredients mean less water
Gluten-free, Cruelty Free and non-GMO
Characteristics
- Based on natural and plant-based ingredients
- Certified organic extracts and oils
- Free from mineral oils, silicones, parabens, sulphates and artificial colors
- Without SLS
- Allergen-free perfumed
- Animal testing free
- Sulfate free
- 25ml
Ingredients (INCI):
Carthamus Tinctorius (Safflower) Seed Oil*, Oenothera Biennis (Evening Primrose) Oil*, Citrus Aurantium Amara (Bitter Orange) Flower Extract*, Olibanum, Macadamia Ternifolia Seed Oil, Simmondsia Chinensis (Jojoba) Seed Oil, Corylus Americana (Hazel) Aurantadium Oil Bitter Orange) Oil*. Calophyllum Tacamahaca Seed Oil, Rosmarinun Officinalis (Rosemary) Leaf Oil*, Nelumbium Speciosum (Lotus) Flower Oil*, Citrus Aurantium Dulcis (Orange) Oil*, Citrus Medica Limonum (Lemon) Peel Oil*, Cananga Odorata Flower Oil
* Certified Organic Ingredient
Sourced from natural essential base
**Natural essential oils
Important Info
| | |
| --- | --- |
| Smell/Color/Texture | Natural products may vary in scent, color and texture from batch to batch |
| Sealing | This product (possibly) comes without a seal. Sustainability is a priority for many brands and for that reason they do not want to add unnecessary plastic to their packaging. |
| Colour | The actual color of the product may differ from the photo accompanying the item. |
| Shelf Life | Products will have a minimum shelf life of 3 months, unless stated otherwise with the product |
| Ingredients | The ingredients list may change from time to time. Please refer to the ingredients list on the packaging for the most current ingredients list. |
| Note: | Use of products is at your own risk. Opened and/or used products cannot be returned. |
| Images | The images shown have a purely indicative purpose and may be subject to changes by the manufacturers. |
0
stars based on
0
reviews
No reviews found...