Add your review
Pure Deodorant Spray - Cucumber & Matcha (100ml)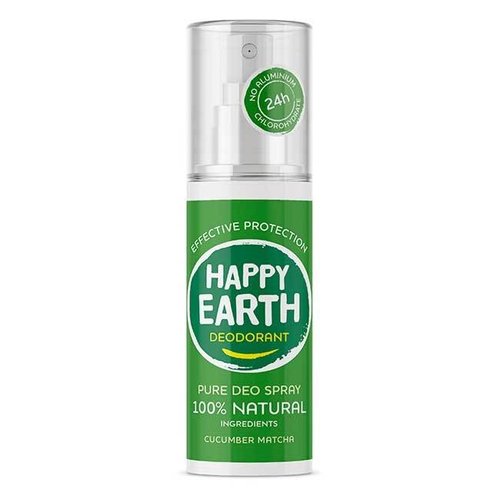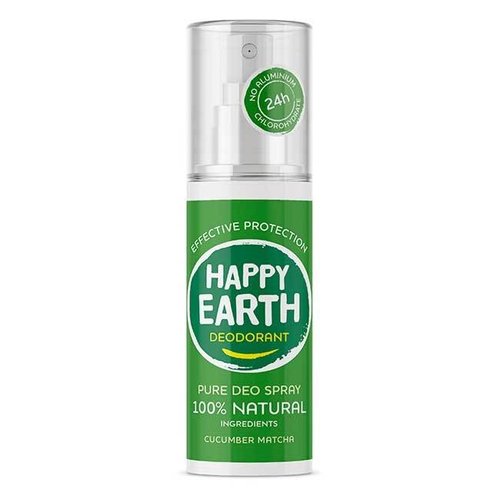 Fresh cucumber matcha scent mixed with a hint of cheerfulness.
Read more
Paid before 23.30 (Mon-Fri) = Shipped Same Day *.
Pure Deodorant Spray - Cucumber & Matcha (100ml)
Paid before 23.30 on working days, delivered tomorrow
Fresh cucumber matcha scent mixed with a hint of cheerfulness. Read more
Description
Happy Earth Pure Deodorant Spray - Cucumber & Matcha
HAPPY EARTH DEODORANT is 100% natural, 100% effective and contains 0% chemicals.
Fresh cucumber matcha scent mixed with a hint of cheerfulness. botanical extracts, skin-soothing organic aloe vera and essential oils.
In HAPPY EARTH DEODORANT we only use ingredients that make your skin happy. If you apply something to your skin, it is nice to know that there are no polluting and unpleasant ingredients such as chemicals, alcohol or other nasty additives. That is why we proudly carry the NATRUE and Vegan Society labels. And our deodorant bottles are made from 100% recycled plastic and contain no harmful propellants. This way you not only take good care of yourself, but also of our planet!

To make you happy:
• 100% effective protection against body odor
• 100% natural ingredients – NATRUE certified
• 100% recycled plastic bottle
• Vegan - Vegan Society certified
• Delicious scent
• Does not leave white or yellow stains on clothing
• Does not contain aluminum hydrochloride, alcohol, parabens, propellants, triclosan and mineral oils
• Not tested on animals

Operation
HAPPY EARTH DEODORANT is a 100% natural deodorant, made from natural mineral salts. You apply it under the armpits and the deodorant leaves a microscopic layer of mineral salts on the skin, which kill the bacteria without blocking or constricting the pores. This keeps you smelling fresh all day long.
Happy Earth Deodorant contains no:
Aluminum chlorohydrate, alcohol, parabens, propellant gases, triclosan or mineral oils.
Characteristics:
- 100% natural
- Natrue certified
- Spray
- Free from mineral oils, silicones, parabens, EDTA, BHT-BHA and artificial colors
- Vegan
- No animal testing
- 100 ml
Ingredients (INCI):
Aqua, Betaine, Potassium Alum, Aloe Barbadensis Leaf Juice**, Sodium Lactate, Triethyl Citrate, Polyglyceryl-10 Laurate***, Propanediol, Levulinic Acid, Sodium Levulinate, Glycerin, Parfum*, Barosma Betulina Leaf Oil*, Cananga Odorata Flower Oil*, Magnesium Chloride, Sodium Bicarbonate, Potassium Sorbate, Lactic Acid, Citric Acid. *From natural botanical extracts and essential oils. **Organic ***Natural solubilizer
Important Info
| | |
| --- | --- |
| Smell/Color/Texture | Natural products may vary in scent, color and texture from batch to batch |
| Sealing | This product (possibly) comes without a seal. Sustainability is a priority for many brands and for that reason they do not want to add unnecessary plastic to their packaging. |
| Colour | The actual color of the product may differ from the photo accompanying the item. |
| Shelf Life | Products will have a minimum shelf life of 3 months, unless stated otherwise with the product |
| Ingredients | The ingredients list may change from time to time. Please refer to the ingredients list on the packaging for the most current ingredients list. |
| Note: | Use of products is at your own risk. Opened and/or used products cannot be returned. |
| Images | The images shown have a purely indicative purpose and may be subject to changes by the manufacturers. |
0
stars based on
0
reviews
No reviews found...