Add your review
Laundry Egg 50 Washes For Whites - Spring Blossom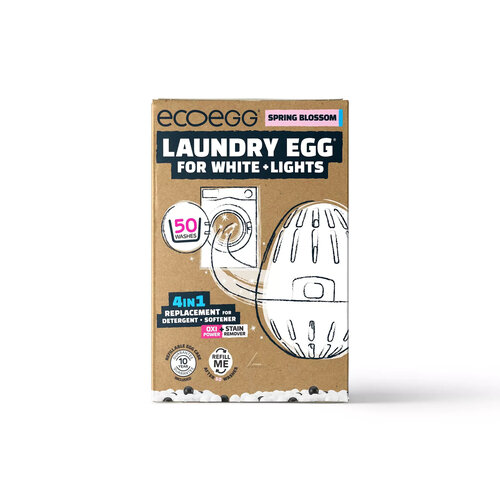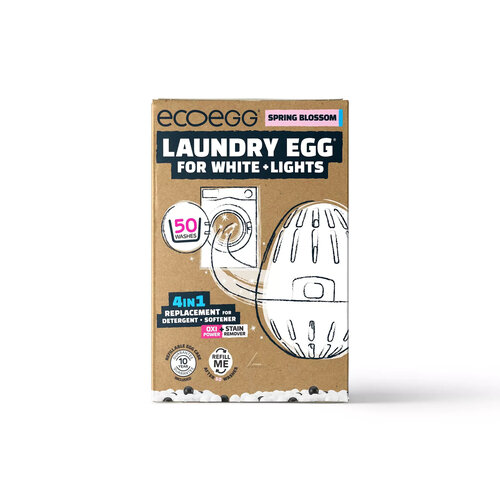 The wash ball of EcoEgg is a complete substitute for detergent / washing powder. You just put it in the laundry and you don't need any other detergent
Read more
Paid before 23.30 (Mon-Fri) = Shipped Same Day *.
Laundry Egg 50 Washes For Whites - Spring Blossom
Paid before 11:30 PM (Mon-Fri) = Shipped Same Working Day*
The wash ball of EcoEgg is a complete substitute for detergent / washing powder. You just put it in the laundry and you don't need any other detergent Read more
Paid before 23.30 (Mon-Fri) = Shipped Same Day *.
Description
Eco Egg Laundry Egg
It's back, it's better, it's here to make your whites + lights EGGcitingly bright.

Designed specifically for white + light laundry loads, these special detergent pellets contain an added oxi brightener to keep your whites shining bright, along with a stain remover agent to remove those stubborn stains. Goodbye to buying multiple, overwhelming and unnecessary products for your white washes!

The Laundry Egg cleans clothes effectively using two types of pellets – white washing pellets and the black tourmaline pellets – encased in a recyclable, refillable laundry egg case.

The no nasties formula contains no enzymes, no chlorine bleaches, no phosphates, no parabens, no SLS/SLES and no palm oil, and has been lightly fragranced to be gentle on sensitive skin. Yes, that's right – an oxi whitener which is gentle on skin – we have it CRACKED.

The Laundry Egg is the eco solution to laundry day, eliminating up to 40* plastic detergent and softener bottles per year per household.

Our vegan founder, Dawn, personally battled with eczema whilst growing up. Her own struggles made her realise the sensitivity of skin to normal detergents which inspired her to invent a new type of detergent that is much gentler on skin. Our formula is lightly fragranced to be gentle on delicate skin AND have been dermatologically tested and rated "excellent". While a lot of us are familiar with strong, chemically fragranced detergents, strong fragrance doesn't always mean clean. We get the job done whilst being gentle on skin.

Should you need to buy more tourmaline pellets, they are included in Laundry Egg Refill packs or you can buy them separately here.

For best results with your Laundry Egg, we recommend you detox your machine before using the Laundry Egg with ecoegg Detox Tablets and detox once a month after that.The Laundry Egg pellets for whites contain a natural brightener which helps to keep your laundry looking brighter and whiter.  You will see tiny blue flecks in the white mineral pellets that help keep your whites white. The white and black mineral pellets work together in the water to effectively draw dirt from your clothing fibres and soften your clothes, leaving your laundry clean and fresh without using harmful chemical laden detergents. The mineral pellets in the ecoegg Laundry Egg for Whites do not contain any petrochemicals, bleaches, phosphates, parabens, SLS/SLES, palm oil or microplastics.
The EcoEgg has been dermatologically tested and has even been found to be extremely suitable for (very) sensitive skin. The Ecoegg wax eggs can be safely used for all washing machines. It is made of soft, durable rubber and is therefore easy to use in your machine.
The pellets in the wash ball last for 50 washes. After these 50 turns, you can easily refill the wash ball with the refill (50 washes).
Named the new way of washing and called a breakthrough in the Press A new natural and environmentally friendly way of washing!
Awarded and awarded the top Gold Award for the best baby Skincare Product from Prima Baby & Pregnancy Magazine in America, the fragrance-free Was Egg, is perfect for baby's sensitive skin. It is also supported by the National Eczema Society and is also very suitable for adults with sensitive skin!
All our Washing Eggs have the stamp: with permission from Allergy UK and are a money-saving, environmentally friendly and hypoallergenic alternative to the regular washing powder.
Hypoallergenic - ideal for sensitive skin, supported by Allergy UK
Environmentally friendly - no harsh chemicals
Hypoallergenic - ideal for sensitive skin, backed by Allergy UK

Environmentally friendly - no harsh chemicals

The 4in1  

Laundry Egg for white + light colors

  acts as a complete replacement for detergent + fabric softener, with refillable non-bio detergent granules. These special pellets contain an  

extra oxy-whitening agent and an added stain remover

  to keep whites bright and remove stains.

 

Place  your Laundry Egg on your white or light laundry  in the drum of your washing machine and press START. This egg is suitable for ALL washing machines and temperatures between 15  

°

  C – 60  

°

  C. 

 

No nasty formula:   no enzymes, no chlorine bleaches, no phosphates, no parabens, no SLS/SLES and no palm oil. 

 

Helps reduce plastic. Never buy a plastic detergent bottle again with the refillable + reusable Laundry Egg. As a result, there is less demand for plastic and fewer plastic bottles are not recycled. Once your Laundry Egg has done its 50 washes, you can keep your egg shiny with our ecoegg refill pellets. 

 

Lightly scented  to be gentle on sensitive skin. Rated 'excellent' for sensitive skin by Dermatest.

 
Remarks:
The wash eggs are used at a maximum of 60 degrees.
Strong Treatment of stains, for example, first with stain soap.
Ecoegg changes the pH of the water, making the wash feel so naturally soft, so no fabric softener is required. If you still want to use fabric softener, that is no problem for the washing egg.
Stop your washing machine is not too full, the egg needs space to move in the drum.
Do not use a water saving program, because the egg needs water to function properly.
It is recommended for the first attempt with the egg to run a completely empty 95 degree wash with descaler or citric acid to remove residual and lime. it may be that in the beginning you do not like your laundry smelling but that is not because of the egg but because of the remains of washing powder that are still in the pipes of the machine.
Benefits
The ecoegg Laundry Egg was originally developed for people with sensitive skin. It has been dermatologically tested on people with sensitive skin and given the result of 'excellent.' The natural mineral pellets contain no harmful chemicals.  We are so proud to have worked with Allergy UK to hold their 'Allergy Friendly Product' award' for the Laundry Egg which gives customers confidence and trust in our product.
The ecoegg Laundry Egg helps to reduce your single-use plastic use. Once you've used your Laundry Egg for around 50 washes, you can buy Refill Laundry Egg Pellets which allow you to use the egg over and over again.
If you switch from liquid detergent and fabric conditioner to a Laundry Egg you can save up to 40* bottles of plastic each year. (*Based on 7 washes a week and 18 wash bottles.) We are proud to have been awarded the Good Housekeeping Institute's 'Getting Greener' accreditation that recognises our efforts towards sustainability and reducing plastic.
The ecoegg Laundry Egg is suitable for vegans and is cruelty-free. Made without any testing or cruelty to animals, and without any animal derivatives, the ecoegg Laundry Egg is suitable for use by vegans.
The ecoegg Laundry Egg is also suitable for handwashing. Simply place the egg to soak in water for 5-10 minutes then handwash as normal. The Laundry Egg must not be used above 60 degrees Celsius.
The ecoegg Laundry Egg is cost effective. Not only is the Laundry Egg kind to your skin, it is also kind to your pocket, costing just 14p per wash or 10p per wash when you buy the refills.
Ingredients (INCI):
Calcium carbonate
Sodium alpha olefin (C14-16) sulphonate
tetrasodium tris(peroxol)decarbonate
Oxirane, 2-(chloromethyl)-, homopolymer
Sodium chloride
Dodecan-1-ol, ethoxylated
Disodium 2,2′-(biphenyl-4,4′-diyldiethene-2,1-diyl)dibenzenesulfonate
Perfume
Important Info
| | |
| --- | --- |
| Smell/Color/Texture | Natural products may vary in scent, color and texture from batch to batch |
| Sealing | This product (possibly) comes without a seal. Sustainability is a priority for many brands and for that reason they do not want to add unnecessary plastic to their packaging. |
| Colour | The actual color of the product may differ from the photo accompanying the item. |
| Shelf Life | Products will have a minimum shelf life of 3 months, unless stated otherwise with the product |
| Ingredients | The ingredients list may change from time to time. Please refer to the ingredients list on the packaging for the most current ingredients list. |
| Note: | Use of products is at your own risk. Opened and/or used products cannot be returned. |
| Images | The images shown have a purely indicative purpose and may be subject to changes by the manufacturers. |
0
stars based on
0
reviews
No reviews found...