Add your review
Tinted Mineral Sunscreen - SPF30 Plastic Free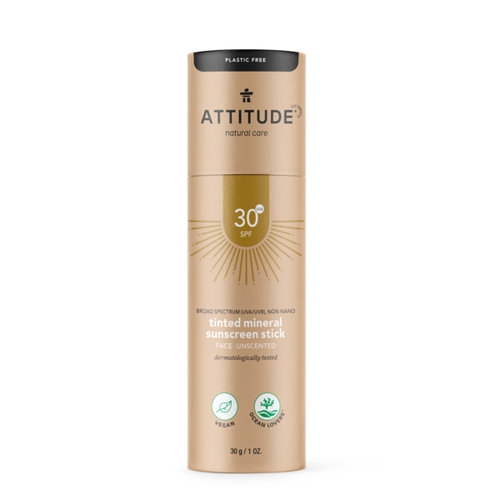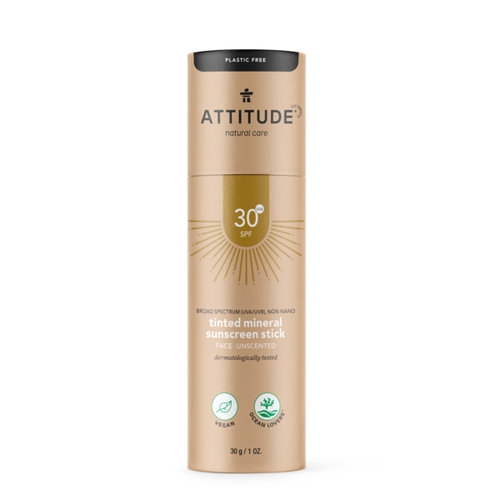 This tinted SPF 30 sunscreen stick offers optimal sun protection and ensures smooth, hydrated skin with a natural glow.
Read more
Paid before 23.30 (Mon-Fri) = Shipped Same Day *.
Tinted Mineral Sunscreen - SPF30 Plastic Free
Paid before 23.30 on working days, delivered tomorrow
This tinted SPF 30 sunscreen stick offers optimal sun protection and ensures smooth, hydrated skin with a natural glow. Read more
Paid before 23.30 (Mon-Fri) = Shipped Same Day *.
Description
Attitude Tinted Mineral Sunscreen - SPF30 Plastic Free
To reduce plastic in our daily lives, we have developed a range of sunscreen products with an innovative cardboard stick. These mineral sun protection products are
developed without ingredients that are harmful to coral reefs. It protects you from the sun, while also protecting the oceans.
Our nano zinc oxide free mineral sunscreen is available in a non-liquid stick formula.
— It forms a physical barrier on the skin and protects it from UVA and UVB (broad spectrum) rays with a sun protection factor (SPF) of 30.
— The zinc oxide molecules we have chosen are stable and do not degrade after exposure to the sun, providing optimal protection. This formula is considered the safest by experts.
— The products are formulated with gentle natural and mineral ingredients. They are hypo-allergenic and dermatologically tested.
did you know?
Nanoparticles are tiny molecules, small enough to enter the body through the skin. However, the zinc particles we use in our mineral sunscreen have been carefully chosen to stay on the skin and form a protective barrier.
ATTITUDE's sunscreens do not contain any ecotoxic chemical filters such as octinoxate or oxybenzone (benzophenone-3), which are banned in some parts of the world due to their
harmful effects on fish and corals.
Hypoallergenic and perfume free.
Hypoallergenic and perfume free.
Note: Mineral sunscreen is always more difficult to apply than sunscreen with chemical additives. Zinc oxide is a powder and the more of it added, the thicker the cream. A higher factor contains more zinc oxide and the cream is therefore thicker. It helps to shake the tube very well first so that the powder is mixed well and then apply the sunscreen in small amounts and then massage well. If you try to apply the cream in large quantities, spreading is more difficult.
By applying it in this way you can massage the cream in the best and you will have the least problems with a white haze. This is true of all mineral sunscreens, not just Attitude's.
Benefits:

* 100% mineral protection, uses only NON-NANO zinc oxide particles
* Without ingredients that affect coral fifen
* Without titanium oxide
* Total protection (UVA + UVB)
* Specifically designed for sensitive skin
* Can be applied on problematic skin
* Does not contain perfume
* Without chemical UV filters, PEG, silicones, parabens, formaldehyde, etc.
* Fragrance free

Use:

Helps prevent sunburn. Apply generously and evenly 15 minutes before exposure to the sun. Reapply at least every 2 hours. For external use only.

Ask a doctor for use on children under six months of age.
Use our 100% Mineral Face Stick SPF 30 for easier application on face, lips or other areas of the body prone to sunburn. Use the tip of a finger for a more even application on sensitive areas.
Attitude Sun Lotion does not contain:
Free from oxybenzone, octinoxate and benzophenone-3 (BP-3) - potentially harmful ingredients for coral reefs.
Free from 4MBC and butylparaben, endocrine disruptors.
Free of PEGs such as PEG-100 stearate and PEG-40 hydrogenated castor oil, contaminated with cancer-causing chemicals.
Free from preservatives of concern such as phenoxyethanol, parabens, formaldehyde or formaldehyde releasers, benzyl alcohol and MIT.
Characteristics:
- 100% natural
- 100% mineral filters: 100% non-nano zinc oxide
- EWG VERIFIED ™ and Top-rated on EWG Skin Deep® Cosmetics Database.
- Ecologo Certified ™: durable and biodegradable sunscreen.
- PETA Certified: Not tested on animals.
- Without chemical filters and preservatives
- Without Parabens and Phenoxyethanol
- Without alcohol & Perfume
- Protects against very broad spectrum UVA UVB
- Vegan
- Not tested on animals
- SPF 30
- Hypoallergenic sunscreen, and Dermatologically-tested.
- Content: 30g
Ingredients (INCI):
Zinc Oxide, Zinc Oxide, Cocos Nucifera (Coconut) Oil, Butyrospermum Parkii (Shea) Butter, Polyhydroxystearic Acid, Helianthus Annuus (Sunflower) Seed Oil, Caprylic/Capric Acid Triglyceride, Helianthus Annuus (Sunflower) Seed Wax, Behenyl Behenate (Ricinus ricinus) )seed oil, capryloylglycerin / sebacic acid copolymer, coco caprylate / caprate, euphorbia cerifera (candelilla) wax
Important Info
| | |
| --- | --- |
| Smell/Color/Texture | Natural products may vary in scent, color and texture from batch to batch |
| Sealing | This product (possibly) comes without a seal. Sustainability is a priority for many brands and for that reason they do not want to add unnecessary plastic to their packaging. |
| Colour | The actual color of the product may differ from the photo accompanying the item. |
| Shelf Life | Products will have a minimum shelf life of 3 months, unless stated otherwise with the product |
| Ingredients | The ingredients list may change from time to time. Please refer to the ingredients list on the packaging for the most current ingredients list. |
| Note: | Use of products is at your own risk. Opened and/or used products cannot be returned. |
| Images | The images shown have a purely indicative purpose and may be subject to changes by the manufacturers. |
0
stars based on
0
reviews
No reviews found...