Add your review
Super Leaves Shampoo - Clarifying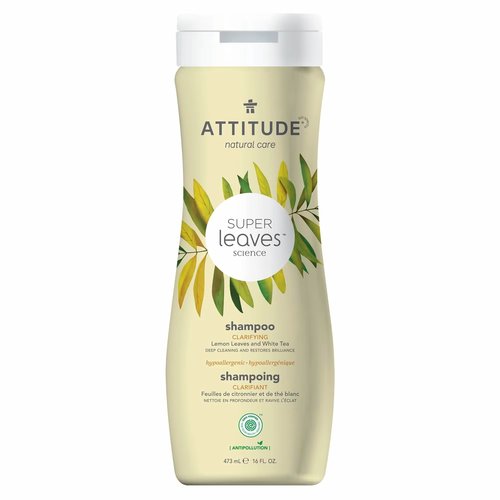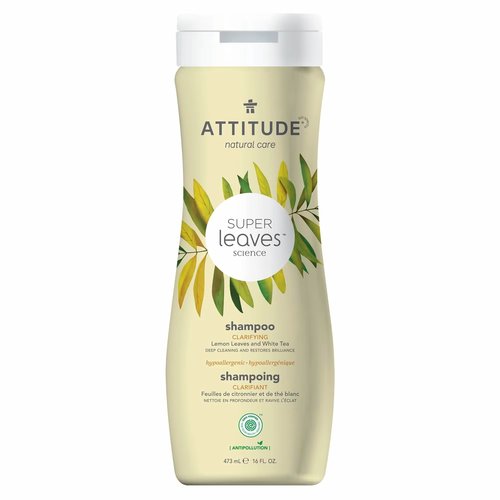 This 100% natural shampoo restores brilliance.
Read more
Paid before 23.30 (Mon-Fri) = Shipped Same Day *.
Super Leaves Shampoo - Clarifying
Paid before 23.30 on working days, delivered tomorrow
This 100% natural shampoo restores brilliance. Read more
Available in the following variants:
Paid before 23.30 (Mon-Fri) = Shipped Same Day *.
Description
Attitude Super Leaves Shampoo - Clarifying
This 100% natural shampoo restores brilliance.
Give your hair a deep cleanse with our Clarifying Shampoo. Enhanced with antioxidant-rich lemon leaf extract and invigorating white tea extract, this gentle Earl Grey- and cucumber-scented hair product is an instant hair beautifier.
Who doesn't love to feel clean? Like, really clean. Thanks to lemon leaf extracts with detoxifying properties, our Clarifying Shampoo deep cleanses your hair while restoring its shine. Plus, it contains white tea leaf extracts that will leave you feeling invigorated after every wash. Infused with the pleasant aroma of Earl Grey tea and cucumber, this EWG VERIFIED™ and hypoallergenic formula purifies while renewing the natural glow of your hair. Reuse this vegan daily shampoo with our eco-refill and continue to make your hair shine or recycle and continue to help the planet. It's a win-win. And for even better results, take it to the next level with our Clarifying Conditioner! Gorgeous hair from root to tip, here you come!
Did you know white tea leaf extract is known to delay the aging process thanks to its high antioxidant concentration? It also helps to protect your hair from daily oxidation. Harness the power of antioxidant-rich white tea leaf extract with ATTITUDE's Super leaves™ Clarifying Shampoo. Plus, thanks to its purifying lemon leaf extract, you can give your hair a deep clean to restore its shine, even more if you are using styling products. Also, you will love its aroma that reminds us of Earl Grey tea and fresh cucumber.
EWG Verified™, hypoallergenic and dermatologically-tested, our Clarifying Shampoo includes moringa seed extract, known for its antipollution properties. For deep cleaning results, use our Clarifying Conditioner after using the Shampoo. For beautiful hair, from root to end!
Use:
Shampoo: Apply to wet hair, lather, then rinse. For best results, use it with ATTITUDE Clarifying Conditioner.
Benefits Attitude Super Leaves Shampoo - Clarifying:
Not only are white tea and lemon leaf extracts rich in antioxidants, they'll contribute to give your hair a deep clean.
Lemon leaf extract has antioxidant, hydrating and conditioning properties.
White tea has antimicrobial, antioxidant, astringent and invigorating properties.
Moringa seed extract, with its cleansing and purifying power, helps decrease the adhesion of pollutants and detoxifies the hair and scalp.
Aroma that reminds us of Earl Grey tea and fresh cucumber.
Our conditioner comes in a squeeze tube, making it easy to use.
Our surfactants are made of plant-derived glucose and fatty alcohols, free of ethoxylated bi-products contaminated with cancer-causing chemicals (1,4-dioxane and ethylene oxide).
Infused with the refreshing aroma of Earl Grey tea and cucumber
Enriched with lemon leaf extract for its detoxifying, hydrating and conditioning properties and with invigorating white tea leaf extract
Enhanced with watercress and Indian cress super leaves extracts, known for containing vitamins and minerals
EWG VERIFIED™: clean ingredients, full transparency and good manufacturing practices
Hypoallergenic shampoo made with plant- and mineral-based ingredients
ECOLOGO® certified: biodegradable formula
100% vegan and cruelty-free
Offered in a bottle that is made from recycled HDPE #2 plastic, the easiest plastic to recycle, and that can be refilled again and again thanks to innovative eco-refills
 
Attitude Shampoo does not contain:
Free from parabens, triclosan, steareths, phthalates, talcum powder or artificial colors.
Free from 4MBC and butylparaben, endocrine disruptors.
Free from PEGs such as PEG-100 stearate and PEG-40 hydrogenated castor oil, contaminated with cancer-causing chemicals.
Free from preservatives of concern such as phenoxyethanol, parabens, formaldehyde or formaldehyde releasers, benzyl alcohol and MIT.
Characteristics Attitude Super Leaves Shampoo - Clarifying:
- 100% natural
- EWG VERIFIED ™ and Top-rated on EWG Skin Deep® Cosmetics Database.
- Ecologo Certified ™: durable and biodegradable sunscreen.
- Without Parabens and Phenoxyethanol
- Vegan
- Not tested on animals
- Hypoallergenic
- Content: 473ml
Ingredients (INCI): 
Aqua / water / eau, sodium coco-sulfate, coco-glucoside, vegetable glycerin, sodium cocoyl isethionate, citric acid, panthenol (vitamin B5), glyceryl oleate, cyamopsis tetragonoloba (guar) gum, sodium benzoate, inulin, potassium sorbate, nasturtium officinale (watercress / cresson) extract, tropaeolum majus (Indian cress / capucine) extract, sodium chloride, maltodextrin, moringa oleifera seed extract, citrus limon (lemon / citron) leaf extract, camellia sinensis (white tea / thé blanc) leaf extract, triethyl citrate*, linalyl acetate*, cis-3-hexenyl salicylate*, 3-hexenol*, dimethyl heptenal*, *fragrance (parfum).
Our products are constantly evolving, hence, please refer to the product packaging for our most accurate ingredient list.
Please note that our products have always contained fragrances of natural origin (except for unscented products). The only thing that has changed is the way we display this information on our packaging. EWG has requested that we add the term *fragrance (parfum) to our list of ingredients because their internal standard now make it mandatory for companies to indicate which ingredients are part of the fragrance.
Important Info
| | |
| --- | --- |
| Smell/Color/Texture | Natural products may vary in scent, color and texture from batch to batch |
| Sealing | This product (possibly) comes without a seal. Sustainability is a priority for many brands and for that reason they do not want to add unnecessary plastic to their packaging. |
| Colour | The actual color of the product may differ from the photo accompanying the item. |
| Shelf Life | Products will have a minimum shelf life of 3 months, unless stated otherwise with the product |
| Ingredients | The ingredients list may change from time to time. Please refer to the ingredients list on the packaging for the most current ingredients list. |
| Note: | Use of products is at your own risk. Opened and/or used products cannot be returned. |
| Images | The images shown have a purely indicative purpose and may be subject to changes by the manufacturers. |
5
stars based on
1
review