Add your review
Time Warp Toner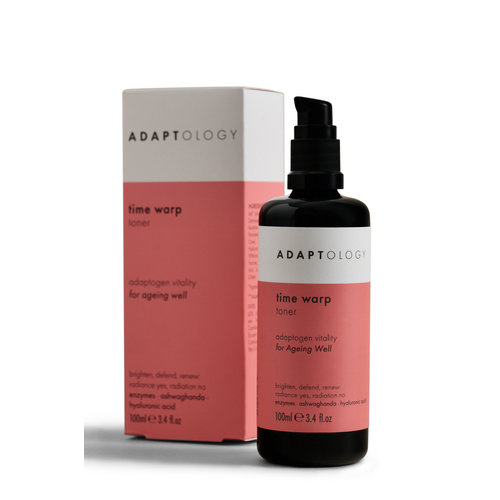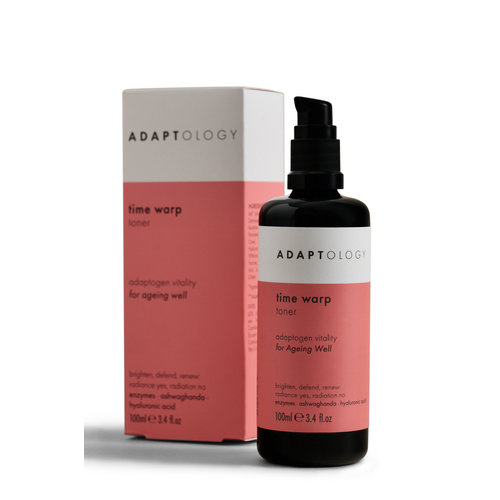 Adaptology
Article code
TWToner-Full Size | OPBEST
Paid before 23.30 (Mon-Fri) = Shipped Same Day *.
Paid before 23.30 on working days, delivered tomorrow
anti-aging toner Read more
Paid before 23.30 (Mon-Fri) = Shipped Same Day *.
Description
Adaptology Time Warp Toner
Hold back the years by revitalising skin cells to regain radiance and elasticity. Suited for Early ageing
Tired & Dull skin, Uneven colour, Wrinkles, Low collagen, Pigmentation.
Prefer to try first? Then order the travel size here.
New skin cells are born every day. Ageing doesn't change this. But it does slow down the cycle of their replacement. From 3 weeks in your teens, to 3 months in your 60s.
That's why our toner uses enzymes to accelerate skin renewal. Restoring a healthy glow with adaptogens to boost cell vitality (Ashwagandha). Bringing deep hydration to plump and smooth out wrinkles (low molecular weight HA). 
- defends the skin against blue light radiation
- enhances cellular renewal, revealing brighter skin without irritation
- hydrates and plumps up dehydration lines
Active Ingredient
LOW MOLECULAR WEIGHT HYALURONIC ACID
Hyaluronic Acid (HA) provides effective hydration. This clear gloopy substance is naturally produced by your body to keep cell tissues moist so you have bags of it already in your skin and eyes. Topping this up is hugely beneficial. The one problem with just adding it topically is it can sit on the surface.
This creates a breathable surface barrier. But doesn't get deep into the skin. So in our formulations we also use Low molecular weight HA to plump the skin and smooth wrinkles. Along with Very Low molecular weight HA to go deeper into the skin with its hydration therapy.
About Adaptology
Adaptology works with the root causes of skin problems to restore balance and prevent skin issues, even before they appear.
Adaptology treats the skin inflammation that underlies so many skin concerns like redness, breakouts, dryness and wrinkles.
It's like taking supplements, for skin: A long-term solution, not a quick fix.
Use
Spray liberally over clean skin, remove excess using a reusable cotton pad.
Adaptology products do not contain:
Parabens, mineral oils, silicones, sulphates, PEGs, animal derived ingredients, artificial fragrances, artificial colors, aggressive cleaning agents or other unhealthy toxins.
Packaging
We use Miron Glass to preserve the quality and potency of the bio-correcting ingredients found throughout the Adaptology range.
Miron glass is very dark purple and this means that it blocks all visible light, except UVA and Infrared, from entering the bottle and affecting the natural product inside.
In nature, sunlight is essential to enable plants to grow, however it also plays a role in accelerating the molecular decaying process once a plant has reached maturity.
The same acceleration decay applies to natural skincare products that aren't protected by Miron glass.
Characteristics:
- Contains 99,9%% natural ingredients
- 8262% organic extracts and oils
- Free from mineral oils, silicones, parabens, sulfates, and artificial colors
- Without SLS
- Allergen-free perfumed
- Cruelty Free
- Vegan
- Content: 100ml
Ingredients (INCI):
aqua (water), rosa damascena flower water*, citrus aurantium amara flower water*, pentylene glycol (from sugar cane), glycerin, sodium hyaluronate, mucor miehei extract, withania somnifera root extract*, aloe barbadensis leaf juice powder*, fructose, potassium sorbate, phytic acid, sodium benzoate, sodium citrate
99,9% of the ingredients are of natural origin. 62% comes from organic farming.
Important Info
| | |
| --- | --- |
| Smell/Color/Texture | Natural products may vary in scent, color and texture from batch to batch |
| Sealing | This product (possibly) comes without a seal. Sustainability is a priority for many brands and for that reason they do not want to add unnecessary plastic to their packaging. |
| Colour | The actual color of the product may differ from the photo accompanying the item. |
| Shelf Life | Products will have a minimum shelf life of 3 months, unless stated otherwise with the product |
| Ingredients | The ingredients list may change from time to time. Please refer to the ingredients list on the packaging for the most current ingredients list. |
| Note: | Use of products is at your own risk. Opened and/or used products cannot be returned. |
| Images | The images shown have a purely indicative purpose and may be subject to changes by the manufacturers. |
0
stars based on
0
reviews
No reviews found...