Add your review
Eau De Parfum - Sous La Canopée (50ml)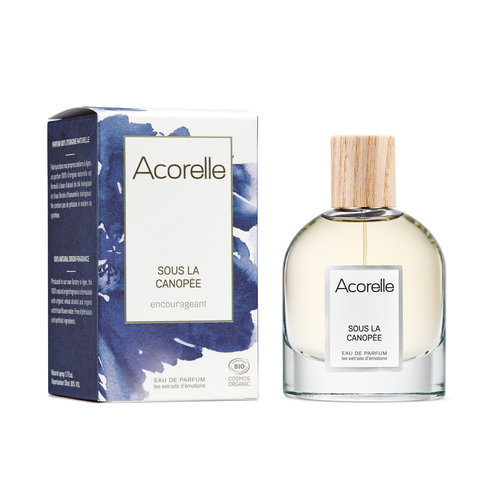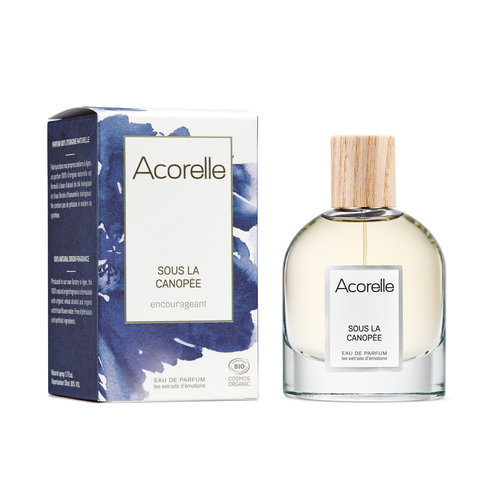 An organic and 100% natural fragrance, sparkling and invigorating with woody and spicy notes.
Read more
Paid before 23.30 (Mon-Fri) = Shipped Same Day *.
Eau De Parfum - Sous La Canopée (50ml)
Paid before 11:30 PM (Mon-Fri) = Shipped Same Working Day*
An organic and 100% natural fragrance, sparkling and invigorating with woody and spicy notes. Read more
Description
Acorelle Eau De Parfum - Sous La Canopée
100% natural eau de parfum based on pure, high quality denatured grain alcohol. The fragrances are created by using only essential oils, mostly from organic cultivation.
Let yourself be carried away by this Eau de Parfum with character with woody and spicy notes that warms up both women and men . Its sparkling and invigorating start thanks to spices and fiery citrus fruits gives way to a warmer heart. Everything is softened by a floral accord of ylang ylang and jasmine. In the background, the power of woods and bark give character to this perfume, while coating it with comfort and warmth.
Vegan fragrance, 100% of natural origin and formulated without phthalates, parabens, chemical fixatives or nitrated musk. Here is the composition:
Relaxing Essential Oils: Driven by the desire to provide our fragrances with beneficial properties, all our fragrances are based on the principles of olfactology. Composed of soothing peppermint and mandarin essential oils, the White Lotus Eau de Parfum calms, brings calm and serenity.
Organic Wheat Alcohol: We use 100% natural, undenatured wheat alcohol.
Organic Witch Hazel Floral Water: Obtained by distillation of organic witch hazel leaves and flowers, this floral water has astringent, purifying, tonic, firming and soothing properties.
Also available in 10ml roll on.
Perfume notes
Top notes (noticeable about 30mn):
Grapefruit - Orange - Mandarin - Bergamot - Lemongrass - Ginger - Cardamom
Heart notes (dominant for 4 hours):
Pink Berries - Incense - Clove - Cinnamon - Floral accord (Ylang Ylang, Jasmine, Violet)
Base notes (persistent for 6 hours or more):
Cedar - Patchouli - Vetiver - Guaiac wood - Myrrh - Cyst - Tonka bean - Cocoa Alcoholate - Vanilla
Characteristics:
- 100% natural eau de parfum
- Free from mineral oils, silicones, parabens, SLS, SLES and artificial fragrances and dyes
- Made from essential oils
- Vegan
- Animal testing free
- Ecocert certified
- 50 ml
Ingredients (INCI):
ALCOHOL **, HAMAMELIS VIRGINIANA (WITCH HAZEL) LEAF WATER *, PERFUM (FRAGRANCE), LINALOOL, LIMONENE, BENZYL SALICYLATE, CINNAMYL ALCOHOL, HEXYL CINNAMAL, BENZYL BENZOATE, BENZYLENALMAL, BENZYL BENZOATE, BENZYLENALMARK, ALCOHOL, BENZYL BENZOATE, BENZYLENALMAL, BENZYL BENZOATE, BENZYLENALMAL, ALCOHOL, BENZYL BENZOATE, BENZYLENMAL, ALCOHOL, BENZYL CINNAMOLNAMATE, BENZYLENMAL, CINAMOLNAMATE, BENZYL CINNAMOL, ALCOHOL , GERANIOL, CITRAL
* Ingredients from organic farming
** Processed from organic ingredients
100% of the total ingredients are of natural origin
79% of the total ingredients are from organic farming 
Ecological and organic cosmetics certified by ECOCERT Greenlife according to the ECOCERT standard available at http://cosmetiques.ecocert.com
Important Info
| | |
| --- | --- |
| Smell/Color/Texture | Natural products may vary in scent, color and texture from batch to batch |
| Sealing | This product (possibly) comes without a seal. Sustainability is a priority for many brands and for that reason they do not want to add unnecessary plastic to their packaging. |
| Colour | The actual color of the product may differ from the photo accompanying the item. |
| Shelf Life | Products will have a minimum shelf life of 3 months, unless stated otherwise with the product |
| Ingredients | The ingredients list may change from time to time. Please refer to the ingredients list on the packaging for the most current ingredients list. |
| Note: | Use of products is at your own risk. Opened and/or used products cannot be returned. |
| Images | The images shown have a purely indicative purpose and may be subject to changes by the manufacturers. |
0
stars based on
0
reviews
No reviews found...