Add your review
Shower Gel - French Lavender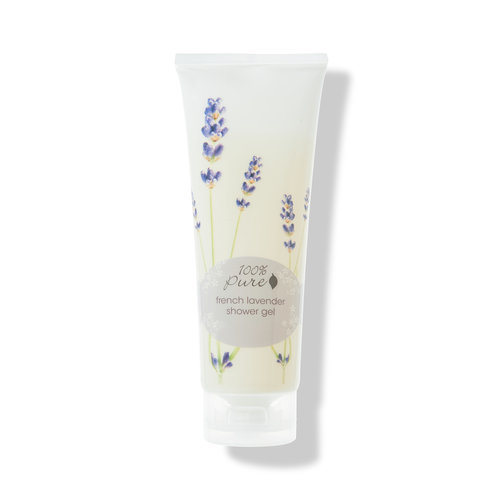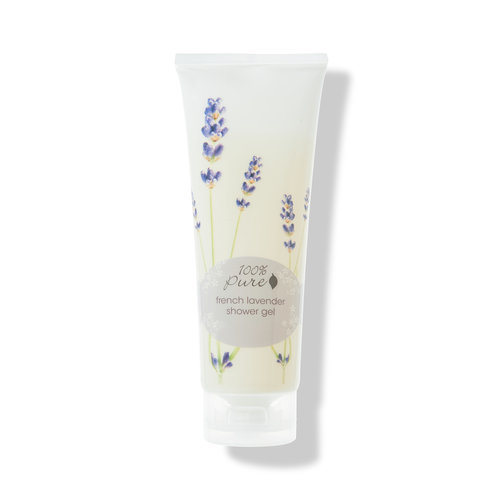 This nourishing shower gel is infused with the scent of clean, calming lavender.
Read more
Paid before 23.30 (Mon-Fri) = Shipped Same Day *.
Shower Gel - French Lavender
Paid before 23.30 on working days, delivered tomorrow
This nourishing shower gel is infused with the scent of clean, calming lavender. Read more
Description
100% Pure Shower Gel - French Lavender
A 100% Natural shower gel for all skin types.
The 100% Pure rich foaming shower gel removes dirt, oil and impurities, while thirsty skin is rehydrated with aloe and rose hydrosol. Infusions of red algae and green tea help to retain essential moisture and soften the skin.
This sulfate-free formula contains no aggressive cleansers and uses soft coconut surfactant to maintain the skin's delicate lipid barrier.
This nourishing shower gel is infused with the scent of clean, calming lavender.
Active ingredients
Lavender Essential Oil fights acne and reduces scars.
Honey soothes the skin and is a natural preservative.
Red Algae hydrates and makes dark spots brighter.
Green tea tones and protects with antioxidants.
Rose Hydrosol firms the skin and tightens pores.
Use
Apply to a wet sponge and squeeze to create foam. Massage on the skin and rinse.
100% Natural:
All natural ingredients come from nature and ONLY undergo chemical changes as a result of organic processes such as fermentation, distillation and cold processing.
100% Pure products do not contain:
Synthetic chemicals, chemical preservatives, artificial fragrances, artificial colors, aggressive cleaning agents or other unhealthy toxins.
Characteristics:
- Contains 100% natural ingredients
- Certified organic extracts and oils
- Gluten-free
- Free from mineral oils, silicones, parabens, sulfates, and artificial colors
- Without SLS
- Allergen-free perfumed
- Cruelty Free
- Sulfate free
- Vegetarian
- 236ml
Ingredients (INCI):
Aloe Barbadensis (Organic Aloe) Leaf Juice*, Rosa Centifolia Flower Water (Rose Hydrosol), Sodium Cocoate (Saponified Coconut Oil), Vegetable Glycerin, Extracts of Camelia Sinensis (Green Tea) Leaf, Asparagopsis Armata (Red Algae), Lavandula Angustifolia (Lavender) Flower/Leaf/Stem and Calendula Officinalis (Calendula) Flower, Mel (Lavender Honey), Extracts of Thymus (Thyme) Vulgaris Flower/ Leaf, Origanum Vulgare (Oregano) Leaf, and Rosmarinus (Rosemary) Officinalis Leaf, Lavandula Angustifolia Oil (Lavender) Essential Oil, Lonicera Caprifolium (Japanese Honeysuckle) Extract, Hyaluronic Acid, Geraniol**, Limonene**, Linalool** *Certified Organic **Component of Natural Essential Oil
Important Info
| | |
| --- | --- |
| Smell/Color/Texture | Natural products may vary in scent, color and texture from batch to batch |
| Sealing | This product (possibly) comes without a seal. Sustainability is a priority for many brands and for that reason they do not want to add unnecessary plastic to their packaging. |
| Colour | The actual color of the product may differ from the photo accompanying the item. |
| Shelf Life | Products will have a minimum shelf life of 3 months, unless stated otherwise with the product |
| Ingredients | The ingredients list may change from time to time. Please refer to the ingredients list on the packaging for the most current ingredients list. |
| Note: | Use of products is at your own risk. Opened and/or used products cannot be returned. |
| Images | The images shown have a purely indicative purpose and may be subject to changes by the manufacturers. |
0
stars based on
0
reviews
No reviews found...