Add your review
Vegan Mineral Sunscreen - SPF30 (100g)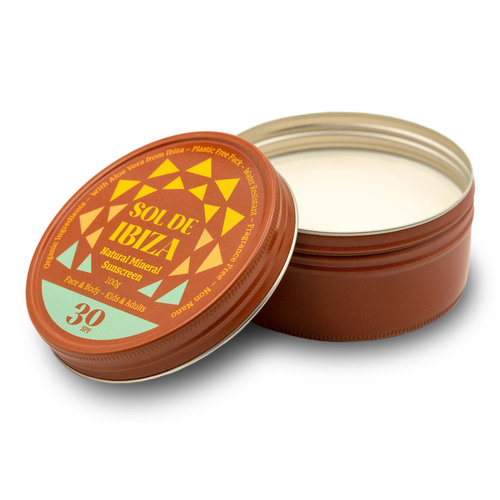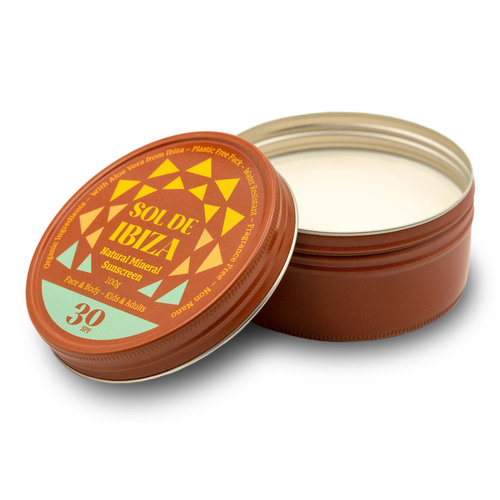 Ordered before 23;30:00, delivered tomorrow.
Vegan Mineral Sunscreen - SPF30 (100g)
Ordered before 23.30 on working days, delivered tomorrow
Plastic-free mineral sunscreen. Read more
Ordered before 23:30, delivered tomorrow.
Description
Sol de Ibiza Vegan Mineral Sunscreen - SPF30 (100g)
100% natural sunscreen without chemicals!
Waterless Solid Sunscreen: take a small amount with your fingers and massage it into the palm of your hand.
Our sun protection butter will become creamy and soft when in contact with the heat from your skinOur mineral filter: Non-Nano Zinc Oxide is safe for your skin and clean for the planet. It provides broad spectrum protection from UVA, UVB rays and blue light.
Suitable for face and body.
Recyclable and infinitely re-usable packaging
Perfect for the entire family: Adults & Kids
Suitable for all skin types
Suitable for daily use: not only for your beach days!
Vegan & Cruelty-free !
Note: May leave a white cast. You can reduce this as much as possible by following the instructions under the heading use as closely as possible.
Use:
Apply the cream 15-30 minutes before sun exposure
Make sure your skin is well hydrated
Do not apply the cream on wet skin
Apply to different areas of the skin by gently rubbing the product 2-3 times per area and spreading it gradually.
If a whitish layer is still visible, massage the product over the skin to distribute it better.
Characteristics:
- 100% natural
- Ocean friendly
- 100% biodegradable
- 100% mineral filters: Zinc Oxide
- Without chemical filters and preservatives
- Free from nanoparticles
- Without Parabens and Phenoxyethanol
- Protects against very broad spectrum UVA UVB
- Immediate protection after application
- Water resistant
- Not tested on animals
- Vegan
- 100g
Ingredients (INCI):
Caprylic/capric triglyceride, Cocos nucifera oil (*), Zinc oxide (20%), Silica, Euphorbia cerifera cera, Polyhydroxystearic acid, Tocopheryl acetate, Aloe barbadensis leaf juice (*), Helianthus annuus seed oil (*), Prunus amygdalus dulcis oil, Calendula officinalis flower extract (*), Oryzanol, Tocopherol, Ascorbyl palmitate, Lecithin, Citric acid.
(*) Ingredients coming from organic farming
ZINC OXIDE will protect your skin absorbing UVA & UVB rays.
SWEET ALMOND OIL will nourish and hydrate your skin.
ALOE VERA is the ultimate natural moisturizer.
SUNFLOWER SEED OIL is antioxidant, anti-inflammatory and antibacterial.
COCONUT OIL anti-inflammatory and protective.
CALENDULA anti-inflammatory and soothing. Works well as a sunscreen enhancement.
SILICA is a naturally occurring mineral. They can be used to coat zinc particles so that they spread easily and evenly across the skin.
CANDELILLA WAX comes from a small desert shrub called Euphorbia cerifera. It softens and soothes the skin, while at the same time helping to bind ingredients together in cosmetic formulations.
ORYZANOL rice ban oil extract is a mixture of lipids derived from rice, used for its antioxidant properties.
TOCOPHEROL is a form of vitamin E that comes from vegetable oils. It works as both an antioxidant and  skin conditioner. It also has anti-inflammatory properties.
CETYL PALMITATE It is an ester that is used as both thickener and emollient (conditions the skin's surface). It is 100 % vegetable origin.
LECITHIN extracted from sunflower oil, Lecithin is a natural component of skin cell membranes. It helps skin hydration and elasticity.
CITRIC ACID is a natural antioxidant, used to balance the pH of cosmetics.
Important Info
| | |
| --- | --- |
| Note | Natural products may vary in scent, color and texture from batch to batch |
| Sealing | This product (possibly) comes without a seal. Sustainability is a priority for many brands and for that reason they do not want to add unnecessary plastic to their packaging. |
| Colour | The actual color of the product may differ from the photo accompanying the item. |
| Shelf Life | Products will have a minimum shelf life of 3 months, unless stated otherwise with the product |
4,5
stars based on
6
reviews