Add your review
Silicone Squeeze Bottle 180ml bag - Blue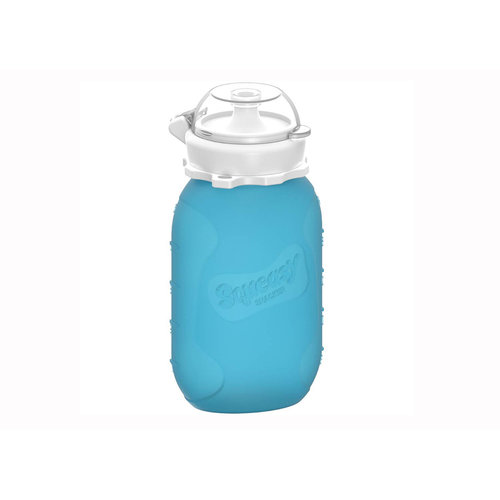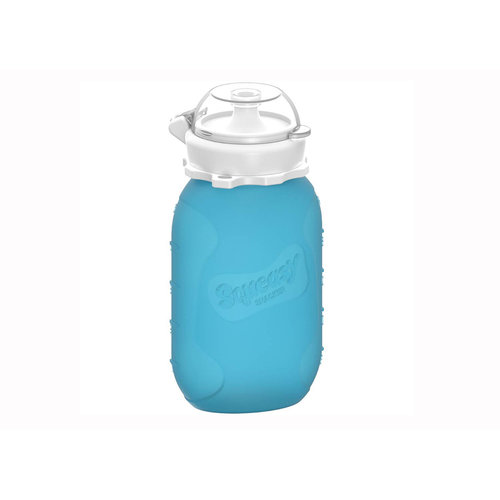 The reusable squeeze pouch from Squeasy Gear is ideal for thick and thin drinks.
Read more
Paid before 23.30 (Mon-Fri) = Shipped Same Day *.
Silicone Squeeze Bottle 180ml bag - Blue
Paid before 23.30 on working days, delivered tomorrow
The reusable squeeze pouch from Squeasy Gear is ideal for thick and thin drinks. Read more
Available in the following variants:
Description
Squeasy Gear Squeeze bottle 180ml
Squeasy Gear offers silicone reusable drinking bottles. The bottles are made of squeezable silicone, can be rolled up and are suitable for both thin and thick drinks. The bottles can also be put in the freezer, so you can make a delicious ice cream.
Yogurt, Smoothies, fruit and vegetable snacks, apple puree, juices, water, lemonade can all be put in these handy reusable squeeze bags. This way you can enjoy your favorite drink without spilling.
Due to the large opening and reversible bottle, they are easy to fill and clean.
Easy on the road
Because of the different layers and the most intelligent gadgets, Squeasy's bottles are a simple solution for the dirt that children often make. With this Squeasy ensures the necessary hygiene. Both thin and thicker drinks are both suitable for the bottles. That is why this brand is so versatile.
Squeasy drinking bottles are also handy to take with you during exercise. The best thing is that the bottles can be rolled up. So they take no space at all when they are empty.
Healthy and sustainable
Everyone knows the disposable items that are bought every day. For example, the popular squeeze yogurts. They are handy and tasty products, but very expensive and they also provide a large amount of plastic.
In addition to quality, modern parents also want sustainability. Nowadays there are various companies that try to meet these requirements. But none of them is as complete and versatile as Squeasy Gear.
Antibacterial silicone
No BPA, PVC and Phthalates
Environmentally friendly
Easy to fill, use and clean: bottle can be inside out
Dishwasher and freezer resistant
NEN-EN tested
Height approx. 14.3 cm, Ø approx. 4.5 cm
Characteristics:
- Reusable
- Rollable
- Leakproof
- dishwasher safe (top rack)
- 100% food grade silicone
- BPA and phthalate free
- Content: 180ml
Important Info
| | |
| --- | --- |
| Smell/Color/Texture | Natural products may vary in scent, color and texture from batch to batch |
| Sealing | This product (possibly) comes without a seal. Sustainability is a priority for many brands and for that reason they do not want to add unnecessary plastic to their packaging. |
| Colour | The actual color of the product may differ from the photo accompanying the item. |
| Shelf Life | Products will have a minimum shelf life of 3 months, unless stated otherwise with the product |
| Ingredients | The ingredients list may change from time to time. Please refer to the ingredients list on the packaging for the most current ingredients list. |
| Note: | Use of products is at your own risk. Opened and/or used products cannot be returned. |
| Images | The images shown have a purely indicative purpose and may be subject to changes by the manufacturers. |
4
stars based on
1
review