Add your review
Refill Laundry Egg 50 Washes - Fresh Linen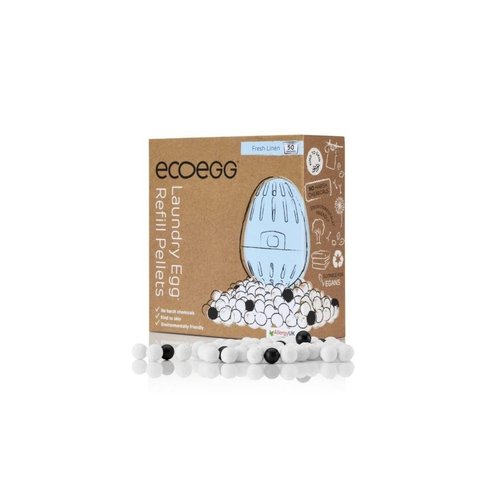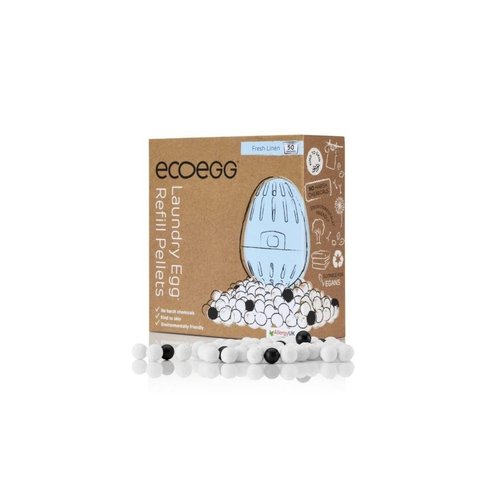 Refill for wash ball of EcoEgg is a complete alternative for washing powder or detergent
Read more
Paid before 23.30 (Mon-Fri) = Shipped Same Day *.
Refill Laundry Egg 50 Washes - Fresh Linen
Paid before 23.30 on working days, delivered tomorrow
This product is available in the following variants:
Refill for wash ball of EcoEgg is a complete alternative for washing powder or detergent Read more
Description
Eco Egg Refill 50 Washes
Contains the white and black pellets.
What are the benefits of the ecoegg Laundry Egg Refill Pellets?
Once you've used your Laundry Egg for around 70 washes, you can buy Refill Laundry Egg Pellets which allow you to use the egg over and over again. If you switch from liquid detergent and fabric conditioner to a Laundry Egg you will save up to 40* bottles of plastic each year. (*Based on 7 washes a week and 18 wash bottles.)
The natural mineral pellets contain no harmful chemicals and leave significantly less residue on your clothes versus traditional detergents and fabric conditioners. We are so proud to have worked with Allergy UK to get their 'Allergy Friendly Product' award for the ecoegg Laundry Egg Refills which gives customers confidence in our product. The ecoegg Laundry Egg Refill Pellets have been officially lab tested and awarded 'excellent' for sensitive skin.
The ecoegg Laundry Egg Refill Pellets are cost effective with a low cost per wash. Not only is the Laundry Egg kind to the environment and your skin, it is also kind to your pocket, costing just 10p per wash when you buy the refills.
You simply put it in the washing machine and you no longer need any other detergent. Set the machine between 30 and 60 degrees The two types of mineral pellets that die in the egg work go to work and produce powerful (but naturally) cleansing foam that cleans your clothes well and they are refillable.
The EcoEgg is dermatologically tested and very suitable for (very) sensitive skin. The Ecoegg wax eggs can be safely used for all washing machines. It is made of soft, durable rubber and is therefore easy to use in your machine.
How do you top up your ecoegg Laundry Egg?
Open your wax egg, discard what is left of the dissolved pellets and add the refill mineral pellets. You can continue to add fillings for the life of your wax egg, which is guaranteed for 10 years.
Important Info
| | |
| --- | --- |
| Smell/Color/Texture | Natural products may vary in scent, color and texture from batch to batch |
| Sealing | This product (possibly) comes without a seal. Sustainability is a priority for many brands and for that reason they do not want to add unnecessary plastic to their packaging. |
| Colour | The actual color of the product may differ from the photo accompanying the item. |
| Shelf Life | Products will have a minimum shelf life of 3 months, unless stated otherwise with the product |
| Ingredients | The ingredients list may change from time to time. Please refer to the ingredients list on the packaging for the most current ingredients list. |
| Note: | Use of products is at your own risk. Opened and/or used products cannot be returned. |
| Images | The images shown have a purely indicative purpose and may be subject to variations by the manufacturers. |
5
stars based on
1
review