Add your review
Apple & Chamomile Baby Soap Bar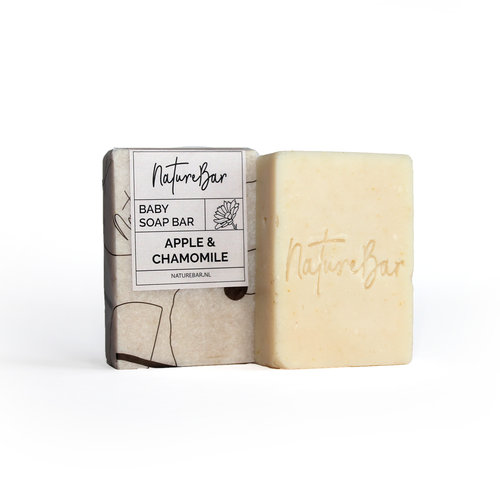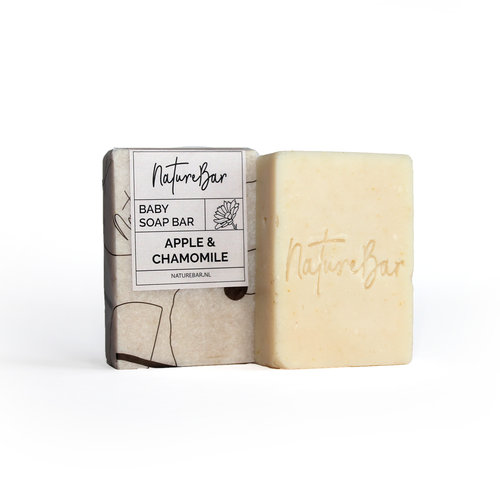 The Baby & Kids soap with apple and chamomile is perfect for the most sensitive skin.
Read more
Ordered before 23;30:00, delivered tomorrow.
Apple & Chamomile Baby Soap Bar
Ordered before 23.30 on working days, delivered tomorrow
The Baby & Kids soap with apple and chamomile is perfect for the most sensitive skin. Read more
Ordered before 23:30, delivered tomorrow.
Description
Nature Bar Apple & Chamomile Baby Soap Bar
Together with local entrepreneurs, Nature Bar combats waste and we work together on a circular economy. Each soap contains a circular core ingredient. Or as Nature Bar likes to call it the magical ingredient. Think of ground coffee from a local coffee roaster. Ingredients that can still be incredibly valuable for your skin, but would otherwise be thrown away.
The Baby & Kids soap with apple and chamomile is perfect for the most sensitive skin.
Naturally, Nature Bar's baby soap is completely fragrance-free, dyes and perfume-free.
MAGICAL (CIRCULAR) INGREDIENT: APPLE
Apple is naturally high in antioxidants, which is great because it does wonders for your skin. In addition, apples strengthen the collagen in your body, which in turn ensures that smooth skin that babies are known for. For this soap we use the cores, which are normally thrown away but contain a lot of nutrients. We remove the pips accurately, so you don't have to worry about that.
CHAMOMILE
You probably know chamomile mainly from the chamomile tea, which is known for its soothing effect. Or the attempts to light up your hair in the summer. But did you know that chamomile also has a soothing effect on your skin? It works perfectly against dry and rough skin and prevents impurities, skin irritations and diaper rash. Did you know that many mothers with babies and children with skin problems have exchanged hormone ointment for the natural calming effect of chamomile?
Does not contain:
Sodium lauryl / laureth sulphate, parabens, alcohol (ethyl alcohol / ethanol), methyl isothiazolinone, methylchloroisothiazolinone, lanolin, propylene glycol, silicone, synthetic perfume, PABA sunscreen, petrochemicals, colorants, DEA, TEA, PEGs and all other optional synthetic additives.

Characteristics:
- Based on 100% natural ingredients
- Plastic-free, Zero waste
- Free from mineral oils, palm oil, silicones, parabens, SLS, SLES
– Circular main ingredient
– Handmade in Amsterdam
– Vegan & animal testing free
– Compostable packaging
– 100 gr
Ingredients (INCI):
Saponified oils of olive*, coconut*, sunflower* and shea butter*, water, apple, chamomile, calendula, sodium lactate. *from certified organic origin

About Nature Bar
Nature Bar is soap and shampoo bars with a mission: to inspire people to take better care of themselves and nature.
In the soap workshop in Amsterdam, the natural and circular soap is handmade in small editions, in a traditional and artisanal way. Every nature bar is unique, just like you.
Each natural soap and shampoo bar from Nature Bar is handmade based on rich organic oils, and a magical (circular) main ingredient. For this we work together with local entrepreneurs. In addition, we produce in a responsible manner, from ingredients to packaging material, we take responsibility at every step. All our soaps are vegan and palm oil-free.
5
stars based on
1
review