Add your review
Deodorant Without Aluminum - Sweet Orange (30ml)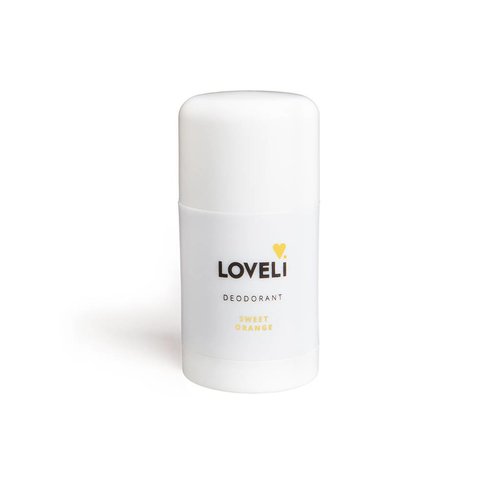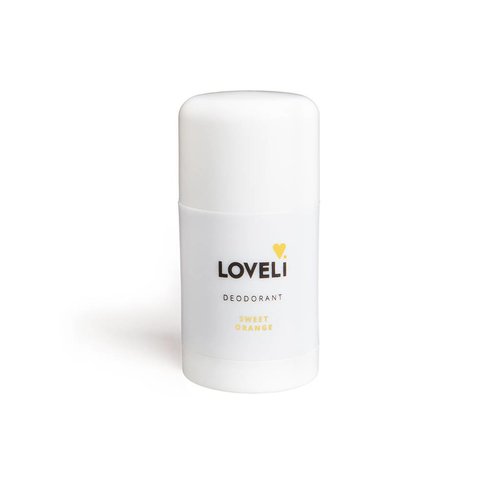 100% Natural deodorant. Sweet Orange is a summer scent of orange and tangerine.
Read more
Ordered before 23;30:00, delivered tomorrow.
Deodorant Without Aluminum - Sweet Orange (30ml)
Ordered before 23.30 on working days, delivered tomorrow
100% Natural deodorant. Sweet Orange is a summer scent of orange and tangerine. Read more
Description
Loveli Deodorant - Sweet Orange
Pure natural deodorant from Loveli without aluminum!
Pure natural deodorant stick without aluminum, that really works.
This loveli deodorant without aluminum is based on coconut oil and sodium bicarbonate and even more fine ingredients that are good for your skin and protect you against odor.
Sweet orange is a summery scent of orange and mandarin. This perfume is also completely natural.
The Loveli deo stick is 30 ml and will last approximately 6 weeks.
Sodium bicarbonate (baking soda) is the ingredient that works so well against odors. But coconut oil also has a neutralizing effect and arrowroot and shea butter ensure a soft skin. With vitamin E as an antioxidant.
Sodium bicarbonate can have an irritating effect on sensitive skin. That is why it is combined with softening arrowroot. It can still happen that your skin responds. There is therefore a sensitive version with less sodium bicarbonate in it and skin care sandalwood oil.
The packaging is made of BPA-free polypropylene (plastic). It can be recycled with the rest of your plastic waste.
You can now also buy a refill for the Loveli deodorant. This saves you waste and is better for the environment and your wallet.
NOTE: The Loveli deo's turn the other way than you are used to. If you don't get the deo up, try turning the other way.
Good to know about the Loveli Deo's
- This natural deodorant does not close your skin. So you still sweat (otherwise your body can't lose its waste), but you don't smell it.
- If you have sensitive skin quickly, your skin may react with a red rash. Immediately put some coconut oil on it and switch to the sensitive version can be the solution. But usually you get nicer skin because of all the fine ingredients.
- The shea butter in the deodorant can cause stains in your clothes. Of course you can wash it out, but it is better to let the deodorant dry a little before putting on your clothes.
- You do on average 6 weeks with 1 small deodorant stick or more than 3 months with a large stick.
- You can put the packaging with your plastic waste, but you can also refill it with a refill.
- If your body has really become addicted to the ingredients in your regular deo, it may first seem as if you are actually sweating worse. Your body is detoxing. Hold on, it's worth it!
Loveli deodorant contains no:
parabens
phenoxyethanol
silicone
PEGs
synthetic perfumes / dyes
animal products unless naturally produced by them, such as milk and honey
Characteristics Loveli deo:
- 100% Natural
- Aluminum free
- SLS free
- Doesn't contain Ethyl Alcohol & Ethanol
- Free from mineral oils, silicones, parabens, EDTA, BHT-BHA and artificial colors
- No animal testing
- From Dutch soil
- 30 ml
Ingredients (INCI): 
The deostick is made of (in order of quantity): Coconut oil, sodium bicarbonate (baking soda), beeswax, shea butter, zinc oxide, arrowroot, vitamin E, natural perfume made from essential oils and sunflower oil (carrier of vitamin E).
INCI: Cocos Nucifera Oil (Coconut Oil), Sodium Bicarbonate, Cera Alba (Beeswax), Butyrospermum Parkii (Sheabutter), Zinc Oxide (Uncoated, Non-Nano), Maranta Arundinacea Root Powder (Arrowroot), Tocopherol (Vitamin E), Perfume ( Natural), Helianthus Annuus Seed Oil, Benzyl Salicylate *, Citral *, Citronellol *, Geraniol *, Limonene *, Linalool * (* Natural Ingredients Essential Oils)
4,5
stars based on
10
reviews