Add your review
Bodycream - Sunny Orange (200ml)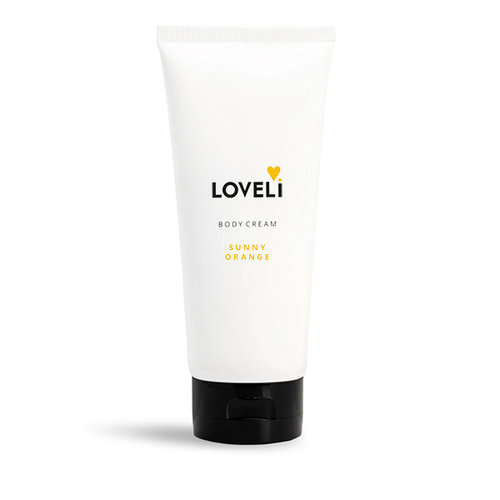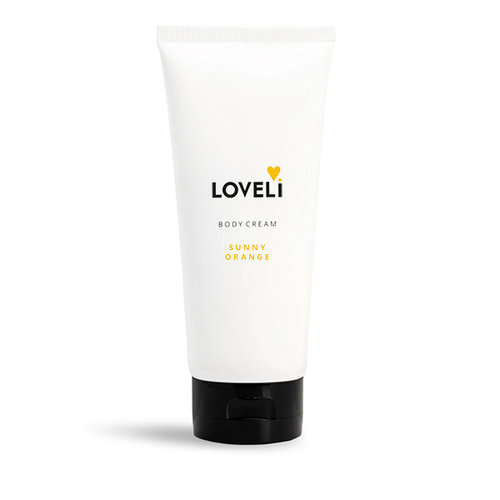 Loveli
Article code
Bodycream-Sunny Orange
This summery scent of orange, lemon and a hint of vanilla is addictively delicious.
Read more
Paid before 23.30 (Mon-Fri) = Shipped Same Day *.
Bodycream - Sunny Orange (200ml)
Paid before 23.30 on working days, delivered tomorrow
This summery scent of orange, lemon and a hint of vanilla is addictively delicious. Read more
Available in the following variants:
Description
Loveli Bodycream - Sunny Orange (200ml)
This super-rich body cream is packed with fruit! And packed with vitamins for your skin. It is a delicious, thick cream that makes your skin dry and velvety. The blueberry in the body cream is a superfood from Scandinavia. The Body cream now has a new scent: Sunny Orange! This summery scent of orange, lemon and a hint of vanilla is addictively delicious. You can perfectly combine the Body cream Sunny Orange with the Body wash Sunny Orange.
Most body creams are full of water and mineral oils that lubricate your skin wonderfully, but do not contain any nutrients or healthy fatty acids at all. We just knew this could be better! The Loveli Bodycream is made from 100% natural ingredients that are packed with good substances for your skin. And of course 100% junk free.
The basis of the body cream is coconut oil. Because it is so recovering for your skin, but also absorbs wonderfully quickly. Because coconut oil hardens below 20 degrees, the body cream sometimes feels a bit thicker and more like a mousse and sometimes more like a liquid cream. We have combined the coconut oil with almond oil, because almond oil is a very rich oil that penetrates deep into your skin. The sunflower oil in this mix on the other hand gives a very soft top layer on your skin. A super nice combination.
The oils in the Loveli Bodycream are combined with shea butter, which makes the cream so wonderfully thick. Sheabutter is a great moisturizer for dry skin.
And to make the body cream completely fantastic, we have added the following active ingredients:
Lingonberry: a superfood from Scandinavia, packed with antioxidants and flavonoids that repair your skin from the damage of free radicals in your skin. In other words: it helps your skin to recover from sun damage and even to reduce pigmentation from the sun.
Calendula extract: because this extract is really good at repairing irritated and sensitive skin
An extra high dose of vitamin E: because of the antioxidants that you cannot get enough of
Cranberry: even more antioxidants :-).

The body cream absorbs faster than the body oil and is therefore ideal for when you are in a hurry. The body cream has a very soft scent that is so soft that you will not smell it through your clothes. The scent is called Honeysuckle and tester Katka described him as "a lovely subtle smell that reminds me a bit of the baby oil that I used to be addicted to."
♥. Specially for dry skin
♥. Helps to repair pigmentation
♥. Absorbs quickly
♥. 100% junk free of course
♥. Packed in sugar cane, so better for the environment
Use
This body cream is intended for dry skin. If you have super dry skin, I would rather opt for the body oil.
The body cream contains coconut oil. Because coconut oil becomes hard when it is cold and liquid when it is hot, the cream is sometimes thicker and more like a mousse and sometimes more liquid. Completely normal.
The body cream is not suitable for children under 4 years. The skin of young children is not yet fully developed and can be up to 5 times thinner than adult skin. Little ones can also react quite violently to fragrances (even if they are from completely natural essential oil). The product has been developed for and tested by adults, so we do not recommend using it for very young children because their skin is so different.
The tube is made from bio-plastic from sugar cane. If the tube is empty, you can dispose of it in its entirety with the plastic waste. Then it can be completely recycled.
The tubes are sealed. Before the first use you have to unscrew the cap to remove the seal.
Characteristics:
- 100% natural ingredients
- Suitable for all skin types
- Free from mineral oils, silicones, parabens, sulphates, gluten and artificial colors
- Without SLS
- Allergen-free perfumed
- No animal testing
- Sulfate free
- 200 ml
Ingredients (INCI):
The body cream is made of (in order of quantity):
Aqua (Water), Cocos Nucifera (Coconut) Oil, Coco Caprylate/Caprate (Liquid Coconut Oil), Helianthus Annuus (Sunflower) Seed Oil, Prunus Amygdalus Dulcis (Sweet Almond) Oil, Butyrospermum Parkii (Shea) Butter, Methyl Glucose Sesquistearate, Cet Alcohol, Glycerin, Calendula Officinalis (Calendula) Flower Extract, Vaccinium Vitis-Idea (Blueberry) Extract, Tocopherol (Vitamin E), Vaccinium Macrocarpon (Cranberry) Fruit Powder, Benzyl Alcohol*, Benzoic Acid*, Sorbic Acid*, Citrus Sinensis (Sweet Orange) Peel Oil, Citrus Limon Peel Oil, Parfum (Natural), Xanthan Gum, Citric Acid, Potassium Sorbate*, Sodium Benzoate*, Citral**, Limonene**, Linalool**
Important Info
| | |
| --- | --- |
| Smell/Color/Texture | Natural products may vary in scent, color and texture from batch to batch |
| Sealing | This product (possibly) comes without a seal. Sustainability is a priority for many brands and for that reason they do not want to add unnecessary plastic to their packaging. |
| Colour | The actual color of the product may differ from the photo accompanying the item. |
| Shelf Life | Products will have a minimum shelf life of 3 months, unless stated otherwise with the product |
| Ingredients | The ingredients list may change from time to time. Please refer to the ingredients list on the packaging for the most current ingredients list. |
| Note: | Use of products is at your own risk. Opened and/or used products cannot be returned. |
| Images | The images shown have a purely indicative purpose and may be subject to changes by the manufacturers. |
5
stars based on
5
reviews