Add your review
Hair Mask - Dragon Fruit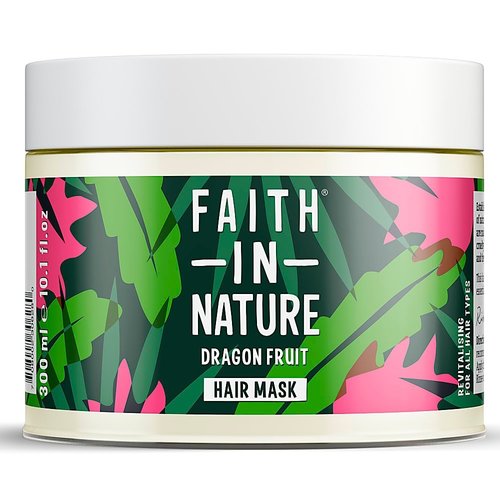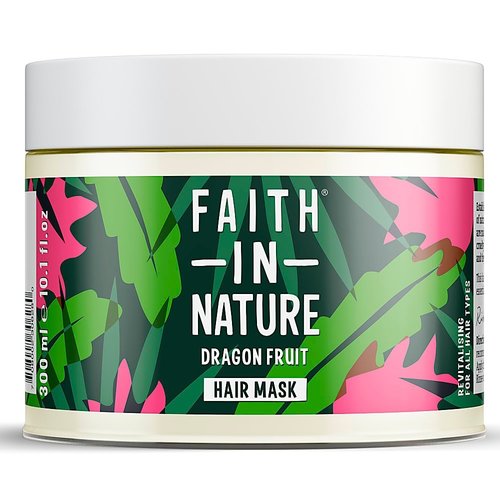 Faith In Nature
Article code
FINHM-Dragon Fruit
Paid before 23.30 (Mon-Fri) = Shipped Same Day *.
Paid before 11:30 PM (Mon-Fri) = Shipped Same Working Day*
Vegan hair mask for all hair types Read more
Paid before 23.30 (Mon-Fri) = Shipped Same Day *.
Description
Faith In Nature Hair Mask - Dragon Fruit
The Dragon Fruit Revitalising Hair Mask harnesses the benefits of antioxidant-rich dragon fruit for hair to restore damaged hair. This revitalising hair treatment is ideal for repairing damaged hair to its former glory, leaving it nourished naturally and brimming with tropical aromas. Our dragon fruit hair mask is vegan and cruelty-free, perfect for anyone wanting to be as kind to the planet as they are to their hair.
Vegan hair mask for all hair types
Parabens and sulphate-free
Made with 100% natural fragrance & essential oils
Vegan Society Approved and cruelty-free hair care
From our natural hair care range
100% recycled and recyclable packaging
Use
After shampooing, apply Coconut & Shea Hydrating Hair Mask to damp hair and leave on your hair for 3-20 minutes, depending on the level of conditioning treatment you want. Rinse well with warm water until hair has no residues which can leave hair flat. In case of contact with eyes, rinse with clean water immediately. If irritation occurs, stop use. Keep out of reach of children.
For best results, pair with our Dragon Fruit Shampoo.
Established in 1974, here at Faith In Nature we believe in harnessing the power of nature without harming it in the process. All fragrance ingredients are 100% natural in origin, meaning you aren't rinsing nasty chemicals down the plughole when washing your hair.
Characteristics:
- Based on natural ingredients
- 100% Natural Perfume
- Made from essential oils
- Organic certified
- Alcohol free
- SLS,, SLES, parabens free
- Vegan
- Cruelty Free 
- 300ml
Faith in Nature products do not contain:
- No animal tested products. No animal ingredients. No ingredients tested on animals.
- All products are Vegetarian, and most are Vegan.
- No Genetically Modified ingredients.
- No synthetic coloring or fragrances.
- No SLES, SLS or Parabens.
- No artificial preservatives.
- No BPA plastic (and we use rPET bottles wherever possible).
- No Methylisothiazolinone (MI)
Ingredients (Inci):
Aqua Cetearyl Alcohol Cocos Nucifera (Kokos) Olie Glycerine Argania spinosa pitolie Butyrospermum Parkii (Shea) Boter Parfum (geur) Xanthaangom Niacinamide Calcium pantothenaat Natriumascorbylfosfaat Tocoferylacetaat Pyridoxine HCI Siliciumdioxide Natrium Zetmeel Octenodeylsorbinaat Citrimiumzuur Natriumchloride Natriumsorbinaat Linalool

Important Info
| | |
| --- | --- |
| Smell/Color/Texture | Natural products may vary in scent, color and texture from batch to batch |
| Sealing | This product (possibly) comes without a seal. Sustainability is a priority for many brands and for that reason they do not want to add unnecessary plastic to their packaging. |
| Colour | The actual color of the product may differ from the photo accompanying the item. |
| Shelf Life | Products will have a minimum shelf life of 3 months, unless stated otherwise with the product |
| Ingredients | The ingredients list may change from time to time. Please refer to the ingredients list on the packaging for the most current ingredients list. |
| Note: | Use of products is at your own risk. Opened and/or used products cannot be returned. |
| Images | The images shown have a purely indicative purpose and may be subject to changes by the manufacturers. |
5
stars based on
1
review