Add your review
Pillow Mist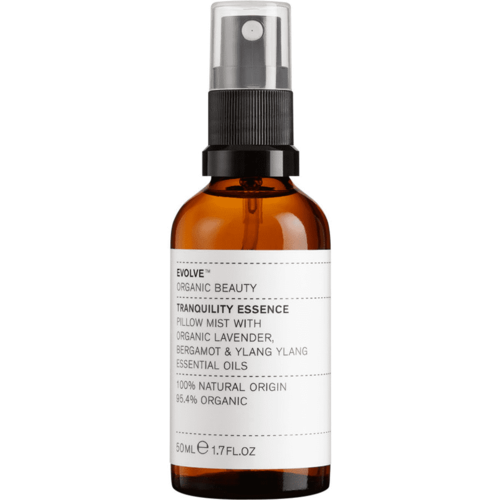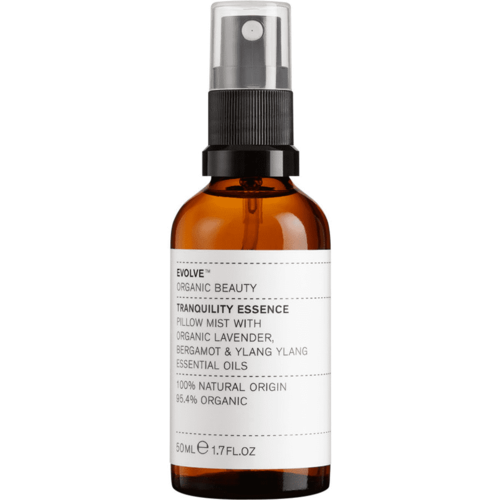 It can be used as a pillow spray, room spray, antiseptic yoga mat spray, or even directly on your wrists
Read more
Paid before 23.30 (Mon-Fri) = Shipped Same Day *.
Pillow Mist
It can be used as a pillow spray, room spray, antiseptic yoga mat spray, or even directly on your wrists
Deliverytime
Out of stock, but available
out of stock, but available
5-7 Working Days
It can be used as a pillow spray, room spray, antiseptic yoga mat spray, or even directly on your wrists Read more
Description
Evolve Beauty Pillow Mist
Our limited edition Tranquility Essence Pillow Mist is a must have to help you create a relaxing and calming environment in your home, and help improve your sleep naturally. Our tranquil blend of Lavender, Bergamot, Ylang Ylang and three other essential oils aids relaxation, helping to ease your nerves and clear your mind from the stresses and strains modern life can place upon it. 
Our Tranquility Essence is able to be used in a variety of ways to help uplift your spirits. It can be used as a pillow spray, room spray, sanitising yoga mat spray or even directly on your pulse points to ensure the relaxing scent of our essential oils follows you around all day, and create an oasis of calm wherever you may be.
Key Ingredients
Ylang Ylang: Ylang Ylang is used to help with emotional healing and nurturing the heart through this process. It helps to remind the individual that joy can be felt and experienced more fully by allowing the heart its full range of emotions, and by encouraging the individual to release any emotional trauma they may be holding onto from the past.
Lavender: Lavender has long been used to calm the mind, but this incredible oil can also support individuals in releasing the tensions and constriction that stems from withholding expression. It is this bottleneck in communication that can result in an increase in worry, anxiousness and sleep disruption. Thankfully though Lavender helps to encourage emotional honesty and aids individuals in learning to communicate and break through this bottleneck. 
Bergamot: Bergamot is used to help relieve feelings of despair, self-judgement and low self-esteem and it does this through the cleansing effect it has on stagnant feelings and limiting belief systems. Bergamot works to awaken the soul to hope, reigniting optimism and confidence in the self thanks to its powerful cleansing properties which generate movement in the energy system, often bringing hope as a result.
Cedarwood: Cedarwood is a fragrance that helps to bring people together and experience the strength and value of community. This oil inspires the feeling of belonging and assists the heart opening to receive the love and support of other people, opening individuals eyes to the support system that is already available to them.
Mandarin: Mandarin is one of the sweetest of the citrus fruits, and as a result this oil offers a unique perspective on life. Mandarin oil helps the individual to see the world through childlike eyes and really appreciate the sweetness, wonder and innocence that can be found throughout everyday life, which is something that can otherwise be difficult to do.

Orange: Orange can be used to help address a wide range of emotional issues. This incredible oil can help inspire abundance, foster creativity and support a positive mood. That isn't where the uses for orange oil end though, as it can also be used to help the individual reconnect with their inner child and bring out fun, joy, spontaneity and playfulness into their life.
Use
This product can be used in a multitude of ways. The most important thing to remember is that to activate the essence you should gently shake it before you want to spray. 
Then, once the essence has been activated it can be used as:
A Calming Pillow Spray: Two sprays onto your pillow around 10 minutes before you want to go to sleep will help you enjoy a peaceful night.
A Disinfecting Yoga Mat Spray: A few sprays on your yoga mat will help to calm your mind as you begin to calm your body with yoga. As this product has a high alcohol content it also works as a great, natural disinfectant helping to clean your mat before and after use.  
A Relaxing Room Spray: To help create an oasis of calm in your home, spray our Tranquility Essence around your bedroom, office or any other room in your home to help you create the perfect relaxation zone.
A Natural Disinfectant: The high alcohol content of this product means that it works great as a natural disinfectant. Just spray on surfaces before wiping with a reusable eco-friendly pad or cloth.

A Pyjama Or Clothing Spray: You can also spray our Tranquility Essence directly onto your clothing to ensure the calming scent follows you around throughout the day.
A Calming Body Spray: Spray a light mist onto your pulse points to find true tranquility. 
Evolve Beauty products do not contain:
Parabens, mineral oils, silicones, sulphates, PEGs, animal derived ingredients, artificial fragrances, artificial colors, aggressive cleaning agents or other unhealthy toxins.
Characteristics:
- Contains 100% natural ingredients
- 95,47% organic extracts and oils
- Free from mineral oils, silicones, parabens, sulfates, and artificial colors
- Without SLS
- Allergen-free perfumed
- Cruelty Free
- Vegan
- 50ml
Ingredients (INCI):
Alcohol**Denat, Citrus Aurantium Bergamia (Bergamot) Peel Oil*, Citrus Nobilis (Mandarin) Peel Oil Expressed*, Citrus Aurantium Dulcis (Blood Orange) Peel Oil, Lavandula Angustifolia Herb Oil*, Cedrus Atlantica (Cedarwood) Bark Oil*, Cananga Odorata Flower Oil*. Linalool, Limonene, Coumarin, Geraniol, Eugenol, Benzyl Salicylate, Farnesol, Benzyl Benzoate *Ingredients from Organic farming **Made using Organic Ingredients
100% of the ingredients are of natural origin. 95,47% of this comes from organic farming.    
For external use only. Keep out of reach of children. Flammable. Keep away from heat or flame. Do not use on children less than 2 months or on open wounds. When using this product keep out of eyes, ears, and mouth. In case of contact with eyes, rinse eyes thoroughly with water. Store between 15-30°C. 
Important Info
| | |
| --- | --- |
| Smell/Color/Texture | Natural products may vary in scent, color and texture from batch to batch |
| Sealing | This product (possibly) comes without a seal. Sustainability is a priority for many brands and for that reason they do not want to add unnecessary plastic to their packaging. |
| Colour | The actual color of the product may differ from the photo accompanying the item. |
| Shelf Life | Products will have a minimum shelf life of 3 months, unless stated otherwise with the product |
| Ingredients | The ingredients list may change from time to time. Please refer to the ingredients list on the packaging for the most current ingredients list. |
| Note: | Use of products is at your own risk. Opened and/or used products cannot be returned. |
| Images | The images shown have a purely indicative purpose and may be subject to changes by the manufacturers. |
0
stars based on
0
reviews
No reviews found...