Add your review
Kalahari Dream Cleansing Oil - (100ml)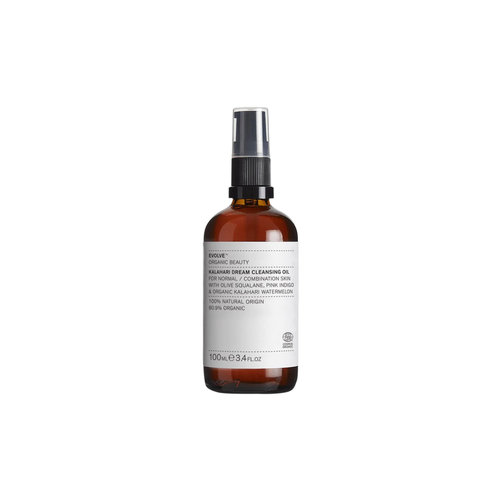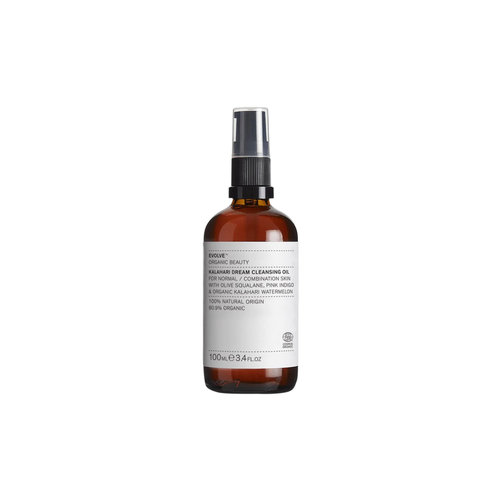 Evolve Beauty
Article code
Kala123-100ml
Suitable for normal to oily skin types.
Read more
Paid before 23.30 (Mon-Fri) = Shipped Same Day *.
Kalahari Dream Cleansing Oil - (100ml)
Paid before 11:30 PM (Mon-Fri) = Shipped Same Working Day*
Suitable for normal to oily skin types. Read more
Description
Evolve Beauty Kalahari Dream Cleansing Oil - 100ml
Suitable for normal to oily skin types.
A complete cleansing dream. This blush pink, lightweight facial cleansing oil deeply cleanses the skin without leaving an oily residue. It removes even the toughest makeup in a flash, including stubborn eye makeup, while gently nourishing the skin. 
This luxurious cleansing oil is incredibly moisturising and promotes cell regeneration and skin barrier repair with fatty acids, Vitamin E and antioxidants.  
It also contains Squalane, which is super hydrating and has anti-inflammatory properties that can calm the skin by reducing redness and swelling. Alongside this, Pink Indigo promotes a healthy glow by smoothing and moisturising the skin. 
Kalahari Dream Cleansing Oil transforms from a gorgeous pink to a milky white lather, taking off makeup like a dream without stripping the skin of moisture.
Its delicious fruity scent and pale pink hue make it a perfect fuss-free deep cleanser for everyday use.
Prefer to try first? Then order the travel size here.
Key Ingredients
Kalahari Melon Seed Oil: The main benefits of Kalahari Melon seed oil are its excellent moisturising and skin conditioning properties. The oil contains up to 70% essential fatty acids and is exceptionally rich in natural Vitamin E and plant sterols, known for their powerful antioxidant properties. This promotes cell regeneration and supports skin barrier function and repair.
Pink Indigo: This soothing ingredient leaves skin looking smoother, healthier and more hydrated. Indigo is a great ingredient for sensitive skin as it reduces inflammation and redness while protecting the skin barrier from UV and pollutants. 
Squalane: Low Molecular This 100% plant-based emollient is derived from Olive oil and is an exceptional hydrator that can prevent the ongoing loss of hydration whilst aiding the restoration of the skin's suppleness and glow.
Use
Apply a small amount to damp face and neck and be whisked away with the fruity melon scent! Gently massage in small circles into your skin to melt away makeup, taking care when applying around the eye area. Watch it turn from gorgeous pink oil to a milky white lather. Thoroughly rinse, using a face cloth if necessary, and pat dry to reveal nourished skin. Make sure to moisturise your face with a hydrating cream such as our Daily Renew Cream.
Evolve Beauty products do not contain:
Synthetic chemicals, chemical preservatives, artificial fragrances, artificial colors, aggressive cleaning agents or other unhealthy toxins.
Characteristics:
- Contains 100% natural ingredients
- 80,9% Certified organic extracts and oils
- Free from mineral oils, silicones, parabens, sulfates, and artificial colors
- Without SLS
- Allergen-free perfumed
- Cruelty Free
- Vegan
- 30ml
Ingredients (INCI):
Helianthus annuus (sunflower) seed oil~, Polyglyceryl-4 oleate, Squalane, Citrullus vulgaris (Kalahari Melon) seed oil*, Parfum (naturally derived fragrance), Brassica campestris (Rapeseed) seed oil*, Polygonum tinctorium (Indigo) leaf extract, Rosmarinus officinalis (Rosemary) leaf extract*, Tocopherol, Limonene
100% of the ingredients are of natural origin. Of this, 80.9% comes from organic farming.
Important Info
| | |
| --- | --- |
| Smell/Color/Texture | Natural products may vary in scent, color and texture from batch to batch |
| Sealing | This product (possibly) comes without a seal. Sustainability is a priority for many brands and for that reason they do not want to add unnecessary plastic to their packaging. |
| Colour | The actual color of the product may differ from the photo accompanying the item. |
| Shelf Life | Products will have a minimum shelf life of 3 months, unless stated otherwise with the product |
| Ingredients | The ingredients list may change from time to time. Please refer to the ingredients list on the packaging for the most current ingredients list. |
| Note: | Use of products is at your own risk. Opened and/or used products cannot be returned. |
| Images | The images shown have a purely indicative purpose and may be subject to changes by the manufacturers. |
5
stars based on
1
review