Add your review
Stainless Steel Thali Plate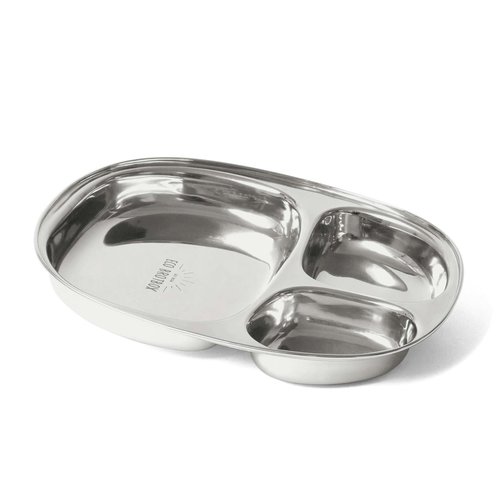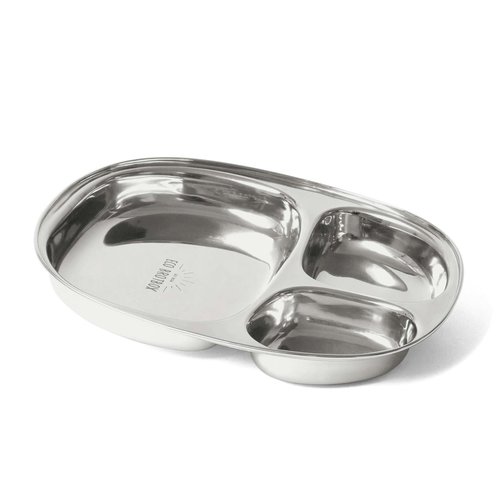 Stainless steel board with three compartments.
Read more
Paid before 23.30 (Mon-Fri) = Shipped Same Day *.
Stainless Steel Thali Plate
Paid before 23.30 on working days, delivered tomorrow
Stainless steel board with three compartments. Read more
Available in the following variants:
Description
Eco Brotbox Stainless Steel Thali Plate
In Indian cuisine, Thali is the term used to describe a meal made of various, regionally different ingredients. With our Thali plates made of high-quality stainless steel three different dishes (e.g. rice, spinach and salad) can be served on one plate without mixing. And all this without plastic and without pollutants.
By the way, the sturdy plate can withstand a lot and is easily cleaned in the dishwasher after use. Perfect for parties, barbecues or camping holidays – disposable crockery is no longer required.
Note: As our Thali plates are produced mainly by hand at our manufacturer in India, the curves in the compartments cannot always be completely and evenly polished to a shiny finish. This can lead to darker spots in the material - however, the quality and safe use is not limited in any way.
| | |
| --- | --- |
| Material: | Stainless Steel AISI 204cu |
| Dimensions: | 26 x 23 x 4 cm |
| Capacity: | 900 ml |
| Size: | Medium (501-1000 ml) |
| Weight: | 326 g |
| Dishwasher-safe: | Yes |
| Notice: | not microwaveable |
|   |   |
100% 18/8 Stainless Steel
18/8 means 18% chromium and 8% nickel. This is the perfect combination of the fabrics so that they adhere well and do not leave any fabrics behind. The electrolytically polished interior ensures that you do not get any aftertaste and that you can easily clean the bottle. Stainless steel is safe, durable, and leaves no particles behind. This way you will not experience any side-effects and the bottle will be completely BPA Free.
BPA Free
All Eco Brotbox products are BPA free. BPA is an abbreviation for Bisphenol A. This is used in many plastic bottles and packaging. Research has shown that packaging with BPA can leave particles in food or drinks. This has a negative impact on health.
Important Info
| | |
| --- | --- |
| Smell/Color/Texture | Natural products may vary in scent, color and texture from batch to batch |
| Sealing | This product (possibly) comes without a seal. Sustainability is a priority for many brands and for that reason they do not want to add unnecessary plastic to their packaging. |
| Colour | The actual color of the product may differ from the photo accompanying the item. |
| Shelf Life | Products will have a minimum shelf life of 3 months, unless stated otherwise with the product |
| Ingredients | The ingredients list may change from time to time. Please refer to the ingredients list on the packaging for the most current ingredients list. |
| Note: | Use of products is at your own risk. Opened and/or used products cannot be returned. |
| Images | The images shown have a purely indicative purpose and may be subject to changes by the manufacturers. |
0
stars based on
0
reviews
No reviews found...