Add your review
Dabba Magic Lunchbox & Snackbox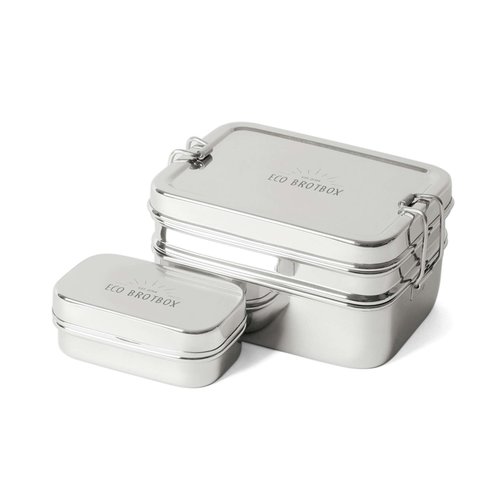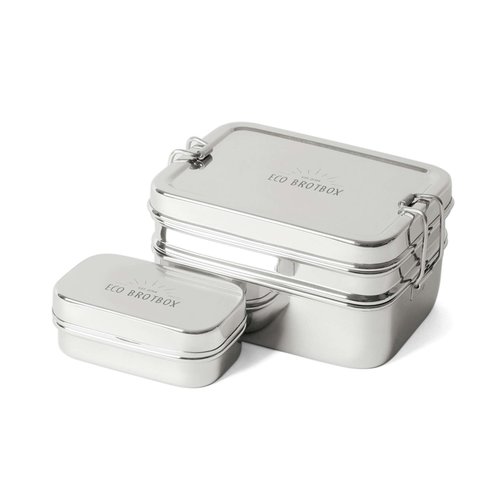 Set consisting of a two-layer lunchbox with matching snack box.
Read more
Paid before 23.30 (Mon-Fri) = Shipped Same Day *.
Dabba Magic Lunchbox & Snackbox
Set consisting of a two-layer lunchbox with matching snack box. Read more
Description
Eco Brotbox Dabba Magic Lunchbox & Snackbox
The Dabba Magic is a great everyday box for work, university or school – it makes healthy & varied food to take away very easy.
The two-layer box also contains a small snackbox, which can either be stored separately or in the upper container. Here there is space for fruit or vegetable pieces, nuts or a tasty dip.

Due to the food safe stainless steel, the box is without plastic and harmfull substances like BPA, but also neutral in smell and taste. You don't have to worry about the taste of your food anymore
Set of two-layer lunchbox and extra snack box
high quality & certified food grade stainless steel
without plastic & harmful substances
dishwasher-safe
Not Leakproof!
Dimensions: 14 x 11 x 8 cm
Features
Content: Capacity per layer (from bottom to top): 400 + 500 ml
Weight: 462g
Dimensions: 14.4 x 10.5 x 7.7 cm / 10 x 5.9 x 4 cm
Does not absorb flavours, odors or colors
Will not crack or rust
Dishwasher safe
BPA-free
BPA Free
All Eco Brotbox products are BPA free. BPA is an abbreviation for Bisphenol A. This is used in many plastic bottles and packaging. Research has shown that packaging with BPA can leave particles in food or drinks. This has a negative impact on health.
Important Info
| | |
| --- | --- |
| Smell/Color/Texture | Natural products may vary in scent, color and texture from batch to batch |
| Sealing | This product (possibly) comes without a seal. Sustainability is a priority for many brands and for that reason they do not want to add unnecessary plastic to their packaging. |
| Colour | The actual color of the product may differ from the photo accompanying the item. |
| Shelf Life | Products will have a minimum shelf life of 3 months, unless stated otherwise with the product |
| Ingredients | The ingredients list may change from time to time. Please refer to the ingredients list on the packaging for the most current ingredients list. |
| Note: | Use of products is at your own risk. Opened and/or used products cannot be returned. |
| Images | The images shown have a purely indicative purpose and may be subject to changes by the manufacturers. |
0
stars based on
0
reviews
No reviews found...