Add your review
Cleansing Foam For Normal to Dry Skin (150ml)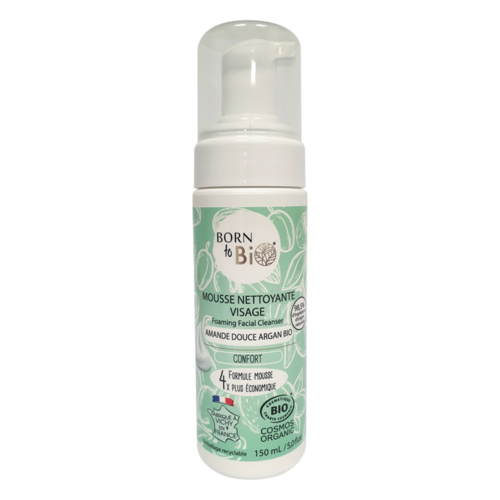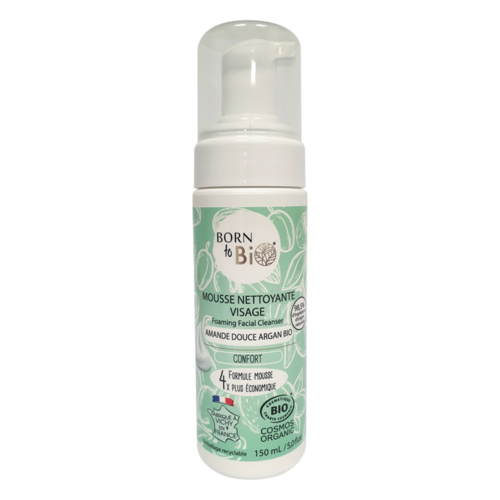 Born to Bio
Article code
BTBCF-Normal to Dry Skin
Organic cleansing mousse for normal to dry skin.
Read more
Paid before 23.30 (Mon-Fri) = Shipped Same Day *.
Cleansing Foam For Normal to Dry Skin (150ml)
Paid before 11:30 PM (Mon-Fri) = Shipped Same Working Day*
Organic cleansing mousse for normal to dry skin. Read more
Description
Born to Bio Cleansing Foam For Normal to Dry Skin (150ml)
Foam formula with an ultra light texture, 1 single press is enough to effectively and durably cleanse the entire face. For normal to dry skin. Gourmet fragrance. Contains about 200 doses.
150mL Pump Bottle.
Made in Vichy 
Recyclable packaging 
Organic product certified Ecocert according to the Cosmos Organic standard
Born to Bio products don't contain:
Parabens, GMO's, silicone, PEG, nanoparticles and chemical filters, SLS/SLES, benzophenone, BHA, ethylhexyl cinnamate, triclosan, phenoxyethanol, and methylisothiazolinone (MIT) Parabens, paraffins, silicones, mineral oils, microplastics, aluminium and synthetic colors and fragrances.
Characteristics:
Based on 98,5% natural ingredients
10,1% Organic certified
Ecocert certified
Free from mineral oils, silicones, parabens, EDTA, BHT-BHA and artificial dyes, synthetic perfume
Vegan
Not tested on animals
Content: 150ml

Ingredients (INCI):
AQUA, HORDEUM VULGARE STEM WATER *, DECYL GLUCOSIDE, COCAMIDOPROPYL BETAINE, GLYCERIN, GLUCONOLACTONE, PERFUME, SODIUM BENZOATE, POTASSIUM SORBATE, CALCIUM GLUCONATE, CITRIC ACID, PRUNELAYS EXULOSTRACT * ARACTA *, PRUNUSCHINUS EXULOSCISGD * , XANTHAN GUM
98,5% of the total ingredients are from natural origin
10,1% of the total ingredients are from organic farming
Important Info
| | |
| --- | --- |
| Smell/Color/Texture | Natural products may vary in scent, color and texture from batch to batch |
| Sealing | This product (possibly) comes without a seal. Sustainability is a priority for many brands and for that reason they do not want to add unnecessary plastic to their packaging. |
| Colour | The actual color of the product may differ from the photo accompanying the item. |
| Shelf Life | Products will have a minimum shelf life of 3 months, unless stated otherwise with the product |
| Ingredients | The ingredients list may change from time to time. Please refer to the ingredients list on the packaging for the most current ingredients list. |
| Note: | Use of products is at your own risk. Opened and/or used products cannot be returned. |
| Images | The images shown have a purely indicative purpose and may be subject to changes by the manufacturers. |
0
stars based on
0
reviews
No reviews found...