Add your review
Organic Sunscreen Cream Face Allergic Skin - SPF30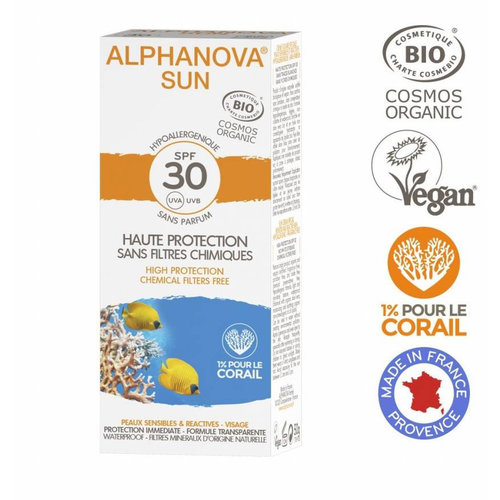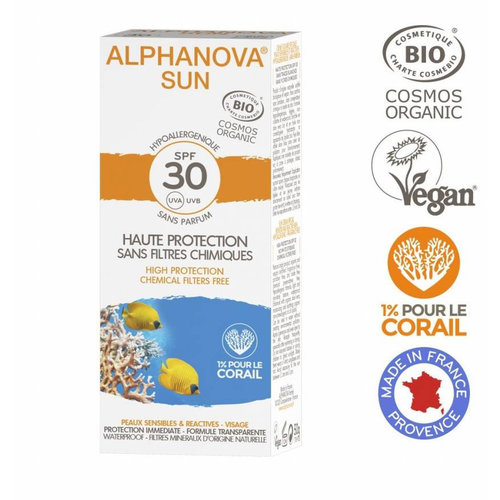 Organic sunscreen especially for allergic skin. Protects skin from sun allergy and those nasty itchy bumps! Waterproof!
Read more
Paid before 23.30 (Mon-Fri) = Shipped Same Day *.
Organic Sunscreen Cream Face Allergic Skin - SPF30
Paid before 11:30 PM (Mon-Fri) = Shipped Same Working Day*
Organic sunscreen especially for allergic skin. Protects skin from sun allergy and those nasty itchy bumps! Waterproof! Read more
Paid before 23.30 (Mon-Fri) = Shipped Same Day *.
Description
Alphanova Sun Bio Sunscreen Face
Natural sunscreen!
Organic sunscreen especially for allergic skin. Protects the skin against sun allergy, those nasty itchy bumps! Water resistant!
This hypoallergenic sunscreen is perfume free.
Dermatologically tested. Organic great care, hydrating and intensively protected sunscreen for the face, enriched with 100% mineral filters. The formula gives the skin a beautiful complexion. Safe to use for medical reasons.
Intensive making natural sunscreen suitable for the face. Specially developed for adults with very sensitive skin for people who want a safe high SPF.
With natural oils that protect against UV radiation (Aloe Vera, Jojoba, Tamanu oil). Hydrates the skin and offers a broad spectrum protection against skin aging caused by the sun. Contains no nanoparticles, phenoxyethanol or chemical UV filters.
Carefree, responsible and perfectly protected enjoy the sun with Alphanova sun thanks to the 100% natural (mineral) filters. A mineral filter, unlike a chemical filter, offers direct protection and is also not possible for the environment.
The products of Alphanova use titanium oxide, not zinc oxide.
This sunscreen is enriched with aloe vera and jojoba oil and is 100% perfume-free.
Alphanova's sun products contain no nanoparticles, no parabens, no chemical filters and no chemical preservatives.
These exclusive formulas guarantee 100% natural sun protection.
They can be used in water without affecting the environment, coral reefs, fish and / or shellfish.
About the Sunscreen
Alphanova's products are Cosmos Organic certified. They have strict guidelines regarding nano particles:
The particle size distribution (number of particles) below 100 nm must be less than 50%
The mass distribution (weight particle fraction) below 100 nm must be less than 10%
Alphanova uses titanium particles with a size between 185 and 300 nm. At this size, the particles are much too large to penetrate the epidermis; they remain on the skin's surface to fully fulfill their role as a screen against UV rays.
The reason that nano is on the packaging has to do with specific French regulations (it is a French brand) that have different rules than the rest of the European countries. In the rest of the European countries, a guideline for what nanoparticles are is maintained between 1-100 nm.
In France, mineral sunscreens have been marked [nano] since January 1, 2022.
The reason? Several measurement techniques have been validated at the European level, but the French
authorities are currently using a new measuring technique (the MEB), which
aggregates to measure the internal particles. This measuring technique is currently only used in France. International measurement methods, the methods used allow us to:
do not write [nano] on our packaging.
TO KEEP IN MIND :
1 – Our formulas have not changed.
2 – French measurement techniques have evolved.
3 – Even if we write [nano] there is no skin penetration (supporting evidence with the study), so there is no risk of our sunscreens being found in the body.
Use: 
Apply a generous and even layer to the skin. Reapply frequently, especially after swimming or drying. Do not exposed babies or young children to direct sunlight. Make them wear a T-shirt, sunglasses and hat. Avoid exposure to the sun between 11 am and 3 pm.
Characteristics:
- 98% natural
- Organic certified (Ecocert)
- 100% biodegradable
- 100% mineral filters: Titanium only
- Without chemical filters and preservatives
- Free from nanoparticles
- Without Parabens and Phenoxyethanol
- Protects against very broad spectrum UVA UVB
- Immediate protection after application
- Water resistant
- Not tested on animals
- Vegan
- SPF30
- 50 g
Ingredients (INCI): 
Aqua / Water, Dicaprylyl Carbonate, Titanium Dioxide, Glycerin, Simmondsia Chinensis (Jojoba) Seed Oil*, Coconut Alkanes, Polyglyceryl-3 Polyricinoleate, Sorbitan Isostearate, Polyglyceryl-3 Diisostearate, Aluminum Hydroxide, Stearic Acid, Magnesium Sulfate, Aloe Barbadensis Leaf Juice Powder*, Polyglyceryl-6 Stearate, Sodium Levulinate, Glyceryl Caprylate, Coco-Caprylate/Caprate, Sodium Anisate, Xanthan Gum, Polyglyceryl-6 Behenate, Tocopherol.
*Ingredients from organic farming
98,1% of the total is from natural origin
20% of the total ingredients are from organic farming
Important Info
| | |
| --- | --- |
| Smell/Color/Texture | Natural products may vary in scent, color and texture from batch to batch |
| Sealing | This product (possibly) comes without a seal. Sustainability is a priority for many brands and for that reason they do not want to add unnecessary plastic to their packaging. |
| Colour | The actual color of the product may differ from the photo accompanying the item. |
| Shelf Life | Products will have a minimum shelf life of 3 months, unless stated otherwise with the product |
| Ingredients | The ingredients list may change from time to time. Please refer to the ingredients list on the packaging for the most current ingredients list. |
| Note: | Use of products is at your own risk. Opened and/or used products cannot be returned. |
| Images | The images shown have a purely indicative purpose and may be subject to changes by the manufacturers. |
5
stars based on
1
review