Add your review
Natural Perfume - Bois 21 (Unisex)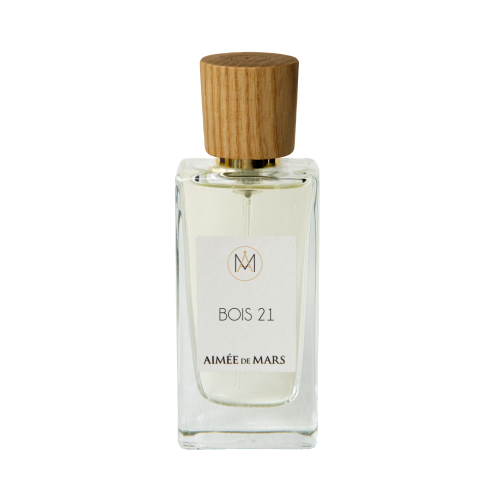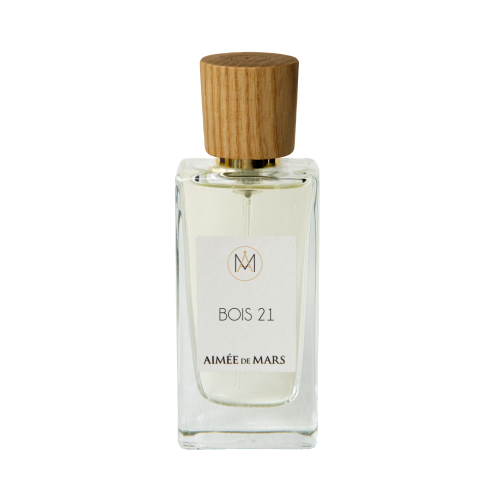 Bois 21 is a vegan perfume with a unique association: combines the power of wood tones with the softness of vanilla.
Read more
Ordered before 23;30:00, delivered tomorrow.
Natural Perfume - Bois 21 (Unisex)
Ordered before 23.30 on working days, delivered tomorrow
Bois 21 is a vegan perfume with a unique association: combines the power of wood tones with the softness of vanilla. Read more
Description
Aimee de Mars Perfume - Bois 21 (Unisex)
100% natural perfume based on pure, high-quality denatured grain alcohol. The scents are created by applying only essential oils, mostly from organic cultivation. You can also create your own unique perfume by using different perfumes on top of each other. Unisex perfume suitable for men and women.
Bois 21 is a vegan perfume with a unique association: the power of wood combines with the softness of vanilla notes. Vetiver mixes with warm herbs and amber chords, interrupted by hints of citrus fruits. Cedar contributes to the predominantly woody tones of this perfume, which are supplemented with tonka bean and sultry tones.
Both dry and voluptuous, it is the sillage of this scent that gives it a unisex appeal and makes the lines between male and female blur. Thanks to this mixed perfume, the man and the woman become one.
If you are an independent, adopted and elegant person like this perfume, the woody scents of this perfume will immediately seduce you.
Lavender is one of the most important essential oils in aromatherapy. Considered a lavender, lavender has extraordinary power because it acts on the psyche and temperes the extremes. It is strongly recommended to calm the tensions during periods of intense stress or to combat insomnia. Lavender works as a catalyst and therefore has a synergistic effect with other oils.
Personality: independent, supposed, elegant.
Top notes: bergamot, lemon
Heart notes: Lavender
Base notes: vetiver, tonka bean, amber
Do you want to try a sample first? Then click here.
Characteristics:
- 100% Natural Perfume
- Free from mineral oils, silicones, parabens, SLS, SLES and artificial colors
- Made from essential oils
- Vegan
- No animal testing
- 30ml
Ingredients (INCI):
Alcohol, aqua, perfume, +/-: evernia prunastri, geraniol, citronellol, citral, linalool, eugenol, farnesol, coumarin, limonene, benzyl benzoate, benzyl alcohol, isoeugenol, cinnamal, cinnamyl alcohol, benzyl salicylate, benzyl cinnamate
About natural perfume:
Organic perfumes are often judged to be misleading by consumers, in particular with regard to the duration and the 'sillage' (scope). At the same time, almost all common scents found in traditional perfumery are at least 80% synthetic in composition.
For our Aimée de Mars brand, we have developed products that consist of at least 95% from raw materials of natural and (not certified) organic origin. Our Eaux de Parfums are free from flalates, benzophenone or polycyclic musk.
In fact, we have decided to apply the same principles of certification body Cosmebio. This means that the (maximum) 5% synthetic components that we allow for our formulas are naturally identical (ie molecules that occur in nature and are not chemically developed). Examples of these are ionons, hedions, coumarin or aldehyde C11.
We also choose to work with beautiful raw materials such as Jasmine, Tonka bean, or Rose Absolue, which enables us to create contemporary perfumes with the quality that used to be - but not (yet) recognized by Ecocert .
We see it as our task to take the consumer on a journey of discovery from the synthetic fragrances to natural perfumes: l'Aromaparfumerie®. We speak here of a true fusion of the benefits of aromatherapy with the world of perfumes. This is possible thanks to the active heart 21 essential oils that resonate powerfully, giving every perfume a feeling of wellbeing, at body and soul level.
Finally, we use organic alcohol obtained from wheat and, whenever the extraction method allows, organic essential oils.
5
stars based on
1
review