Add your review
Red Avert Moisturiser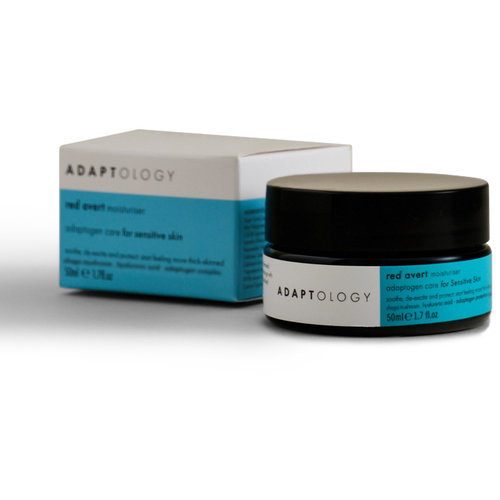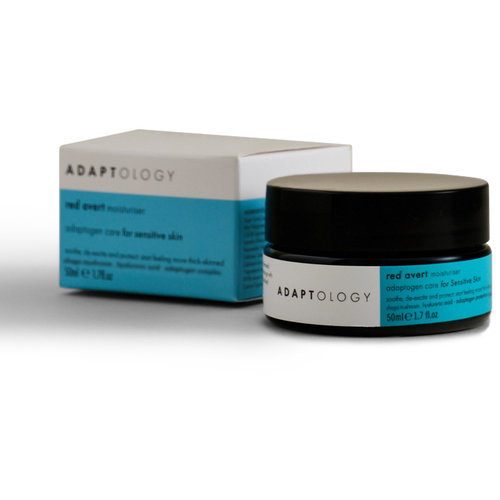 Adaptology
Article code
RAMoisturiser-Full Size
Day and night cream for sensitive skin, Redness, Inflammation, Irritation, Allergies, Rosacea.
Read more
Paid before 23.30 (Mon-Fri) = Shipped Same Day *.
Red Avert Moisturiser
Day and night cream for sensitive skin, Redness, Inflammation, Irritation, Allergies, Rosacea.
Deliverytime
5-7 Working Days
Day and night cream for sensitive skin, Redness, Inflammation, Irritation, Allergies, Rosacea. Read more
Description
Adaptology Red Avert Moisturiser
Calm down sensitivity by soothing and reducing irritation. Prefer to try first? Then order the travel size here.
This soothing moisturiser reduces sensitivity and defends against modern living. Cherimoya reduces the appearance of redness, calms irritation and reduces hypersensitivity. Low Molecular Weight Hyaluronic Acid hydrates, soothes and restores the skin barrier layer. Extremogen / Adaptogen complex defends against pollution, radiation and stress-related ageing.
- helps to reduce chronic inflammation and skin reactivity
- hydrates and restores the skin barrier layer
- defends against modern living: stress, pollution and radiation
Suited for senstive skin, Redness, Inflammation, Irritation, Allergies, Rosacea.
Key Ingredients
CHAGA MUSHROOM
Chaga is a fungus that grows on birch trees. Chaga is bristling with biochemical defenders because of its precarious life as an uninvited guest. You can spot it a mile off as birch bark is white and chaga is black. The reason being that chaga is packed with UV-blocking melanin. Chaga is also richer in antioxidants than superfood berries. Chaga's adaptogens make it a valued ingredient in traditional medicine. And more recently skincare. Chaga provides protection against temperature variations, helps restore the skin barrier layer, reduce any signs of redness and sensitivity, strengthen capillaries and reduce persistent redness.
The results: in studies people using this chaga extract reported it 'as effective as a five-day relaxation cure" in mitigating fatigue lines, dark circles and dullness. 85% perceived a health benefit for their skin and 91% reported increased skin comfort.
Use
Apply gently to cleansed face and neck. Supercharge with few drops of your prescribed Adaptology serum.
Adaptology products do not contain:
Parabens, mineral oils, silicones, sulphates, PEGs, animal derived ingredients, artificial fragrances, artificial colors, aggressive cleaning agents or other unhealthy toxins.
Packaging
We use Miron Glass to preserve the quality and potency of the bio-correcting ingredients found throughout the Adaptology range.
Miron glass is very dark purple and this means that it blocks all visible light, except UVA and Infrared, from entering the bottle and affecting the natural product inside.
In nature, sunlight is essential to enable plants to grow, however it also plays a role in accelerating the molecular decaying process once a plant has reached maturity.
The same acceleration decay applies to natural skincare products that aren't protected by Miron glass.
Characteristics:
- Contains 99,9% natural ingredients
- 21% organic extracts and oils
- Free from mineral oils, silicones, parabens, sulfates, and artificial colors
- Without SLS
- Allergen-free perfumed
- Cruelty Free
- Vegan
- Content: 50ml
Ingredients (INCI):
AQUA (WATER), COCO-CAPRYLATE/ CAPRATE, PENTYLENE GLYCOL (FROM SUGAR CANE), ISOAMYL LAURATE, CETEARYL ALCOHOL, GLYCERIN, CANDELILLA/ JOJOBA/ RICE BRAN POLYGLYCERYL-3 ESTERS, GLYCERYL STEARATE, ECTOIN, PARFUM (NATURALLY DERIVED FRAGRANCE), C10-18 TRIGLYCERIDES, WITHANIA SOMNIFERA ROOT EXTRACT*, TEPHROSIA PURPUREA SEED EXTRACT, INONOTUS OBLIQUUS EXTRACT, SODIUM HYALURONATE, ALOE BARBADENSIS LEAF JUICE POWDER*, PROPANEDIOL, HELIANTHUS ANNUUS (SUNFLOWER) SEED OIL, SUCROSE STEARATE, MICROCRYSTALLINE CELLULOSE, CETEARYL GLUCOSIDE, FRUCTOSE, SODIUM STEAROYL LACTYLATE, ISOAMYL COCOATE, CELLULOSE GUM, XANTHAN GUM , TOCOPHEROL, SUCROSE PALMITATE, PHYTIC ACID.
99.9% of the ingredients are of natural origin. 21% comes from organic farming.
Important Info
| | |
| --- | --- |
| Smell/Color/Texture | Natural products may vary in scent, color and texture from batch to batch |
| Sealing | This product (possibly) comes without a seal. Sustainability is a priority for many brands and for that reason they do not want to add unnecessary plastic to their packaging. |
| Colour | The actual color of the product may differ from the photo accompanying the item. |
| Shelf Life | Products will have a minimum shelf life of 3 months, unless stated otherwise with the product |
| Ingredients | The ingredients list may change from time to time. Please refer to the ingredients list on the packaging for the most current ingredients list. |
| Note: | Use of products is at your own risk. Opened and/or used products cannot be returned. |
| Images | The images shown have a purely indicative purpose and may be subject to changes by the manufacturers. |
5
stars based on
1
review